What You Lookin' at? Ten Actors Who Can Kill With a Stare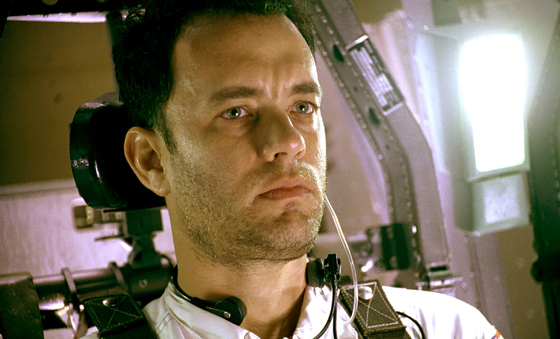 Sure, scripts are important. But the real measure of a movie's credibility is whether you actually believe what the actors are saying. Some actors make their points by enunciating in ways that make you scratch your head (John Malkovich). Some use their bodies to get a reaction without saying a word (Buster Keaton). And some can make you go cold with dread, boil over with laughter, or melt into sadness with nothing more than a look. Read on for a ten-strong list of actors who use their faces like instruments — playing the audience for all its worth.

1. James Dean
With one look, Dean could communicate more than some actors say in an entire movie. Take the famous gift scene in East of Eden : The script calls for Dean to run off in anger when his father refuses a gift of money made with Beans Futures. Dean does the opposite, displaying not anger, but shame and a call for mercy. More evidence: In Rebel Without a Cause and Giant , one of Dean's looks could morph a scene into literally whatever he wanted it to be.

2. Clint Eastwood
The Good, the Bad, and the Ugly, A Fistful of Dollars and For a Few Dollars More are masterpieces, but what would they be without "silent" screen great Eastwood? These movies don't even need dialogue — everything is communicated through his expression. But Eastwood's silent soliloquies aren't just about instilling fear: Think of Escape from Alcatraz , where so many scenes relied upon him simply brooding in his cell. Enough said.

3. Marlon Brando
Even Brando's most subtle looks spoke volumes: The silent lust he displays as he courts Mary Murphy in The Wild One ; the longing looks he gives to Eva Marie Saint after she accidentally drops her glove in On the Waterfront ; the desperation that's telegraphed before his scream when he bellows "Stella!" in A Street Car Named Desire . But no Brando look was more definitive than his final parting in The Wild One. The look he shoots back before he rides out of the town is as powerful of an ending as the Death Star exploding in Star Wars .

4. Marilyn Monroe
She may not have had much of a range, but Marilyn Monroe could do one thing better than anyone else: Drive men absolutely mad with one of her highly calculated expressions. From her smiles in Gentleman Prefer Blondes to her surprised reactions of pleasure in Some Like It Hot , Marilyn knew just what she was doing. Haters say all she did was show up and look pretty, but her reaction to Tony Curtis' character claiming to be the heir to a fortune in Some Like It Hot is quintessential Monroe: One of a kind.

5. Paul Newman
Where to begin with Newman? His defeated and hopeless expression after he misses a field goal in the opening of Cat on a Hot Tin Roo f, his faces of defiance and eventual submission in Cool Hand Luke (not to mention the belly-aching as he eats the eggs), his desperate stares in The Hustler , the Machiavellian remorse in Road to Perdition … the examples are endless. Yes, his eyes really were that blue, but Newman's real talent was that he knew how to use them.

6. Tom Hanks
If Hanks lived in the silent area he could have been just as big a star as Charlie Chaplin. Recall how his face conveyed the numbing sadness of war in Saving Private Ryan , or pity and sympathetic strength as he stands in the courtroom in Philadelphia , or fear as he cowers alone in a hotel room in Big. And that's not to mention his work in Cast Away . The actor's tour de force had no dialogue for nearly 90 minutes, making it the modern day equivalent of, that's right, a silent movie.

7. Jack Nicholson
Jack Nicholson is best known for his demonic smile and sharp eyebrows, but his repertoire of facial acting runs the gamut. Chinatown made Jack a household name, but those cynical lines also came with killer looks, made all the more emphatic by the bandage on his nose. In The Shining Nicholson let us see inch by inch how deep he was falling into the rabbit hole. And in A Few Good Men , before his explosive "You can't handle the truth" line, he sits and listens to Tom Cruise with as much scorn as you will ever see captured on celluloid.
8. Daniel Day-Lewis
Daniel Day-Lewis uses his entire body and every muscle in his face to show you want his character is going through. (Perhaps no more so than My Left Foot , in which the actor was completely non-verbal.) Day-Lewis' acting forte, however, is intimidation. Consider the scene in There Will Be Blood when his character goes to the beach to swim. The way he stares at his "brother" from the waves sums up everything that is going through his character's mind; it would taken pages of dialogue for a lesser actor to communicate.

9. Audrey Hepburn
Like Monroe, Audrey Hepburn had a distinct, iconic face, one that could represent more of the scene than any prop or set: The way she lookd longingly at the jewelry displays in Breakfast at Tiffany's ; her metamorphosis as she meets the queen in My Fair Lady . Yet, Hepburn used her tacit acting in every movie she performed in, especially her more dramatic turns. As a blind woman in Wait Until Dark , Hepburn not only makes her blindness believable, she convinces the audience of her character's every emotion, from the absolute dread when she realizes someone is coming to get her, to her look of relief when she emerges from the dark.

10. Meg Ryan
It's not off-base to compare Meg Ryan's acting to the persuasive powers of a puppy: A happy Ryan literally glows like Dr. Manhattan in The Watchmen and she uses those big eyes and impish smile to her advantage in all her roles. Sleepless in Seattle , You've Got Mail , When Harry Met Sally , and the list goes on. Ryan perfected her technique as Anthony Edward's grieving spouse in Top Gun . With one look she made you reach for the tissue box faster than the time it took "Danger Zone" to get stuck in your head.
Read More