What to See – The Soloist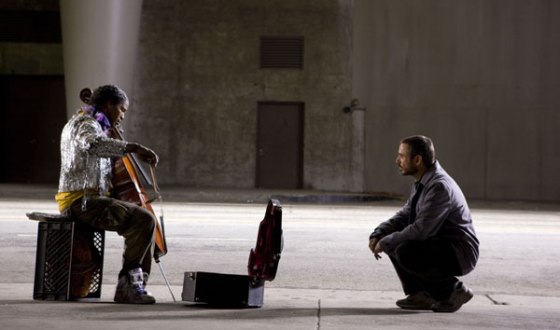 The Soloist" width="560″/>

Notoriously moved from 2008's end-of-year awards season traffic jam, The Soloist now comes to theater screens with a slight air of dissatisfaction swirling around it. How good could it be, the audience asks, if its own studio pulled it from Oscar season? Well, putting aside the studios insane tendency of only releasing worthy films November through December — the simple fact is that The Soloist is good. Actually The Soloist is more than just good; it's tough, smart, sincere and honest — four adjectives you might not expect to see attached to a movie that's already been dismissed as last year's Oscar misfire.
Steve Lopez (Robert Downey Jr.) is a columnist for the beleaguered L.A. Times. While eating lunch in L.A.'s desolate downtown, he hears music — scratchy and sad but wonderful. Walking over, Steve meets Nathaniel Ayers (Jamie Foxx), a man whose mastery of the violin is matched only by his struggles with everything else. Nathaniel is talented, homeless, and mentally ill. But Steve thinks there's a story, so he pushes and prods and digs. He gets a story; he also gets much more.
After watching Downey play a crime reporter in the little-seen Zodiac , watching him play a columnist — a job with less investigation, more narration — is a nice spin. Downey makes thinking a dramatically interesting act, and his transparent thought-process serves him well here, just as it did in Iron Man. And while Foxx doesn't overplay Ayers, he also goes farther than most movie-screen depictions of mental illness go. Susannah Grant's script (based on the book by the real-life Steve Lopez) doesn't reduce mental illness to a series of minor tics and phobias. Ayers isn't well, and Foxx is brave enough to convey all the scary-sad ramifications of that fact.
Director Joe Wright ( Atonement ) also doesn't step away from any challenges. The depiction of L.A.'s worst back alleys is a leather jacket away from being out of Mad Max , but Wright moves past the visual depiction of squalor and sadness and exposes us to some of the people who are living there and trying to get by in the face of extraordinary mental and physical illness. The Soloist is, for lack of a better word, subtle, or, at least, subtler than you might think. For all its directorial flourishes and big moments, it also conveys that it's going to take more than money and happy thoughts to affect homelessness; as much as it enshrines and celebrates newspaper journalism, it also points out the limitations of that medium as well. I'd be suspicious of The Soloist if it had a happier ending — if it didn't conclude with such cautious optimism and a clear-eyed assessment of the problems it revolves around but can't solve. The Soloist is less interested in warming your heart than it is in firing up your head — your brain will get a bigger workout than your tear ducts. That's a welcome change from most end-of-year Oscar contenders, and makes it all the more welcome in theaters now.
For a different take on The Soloist, check out the movie review at AMC Filmcritic.
Read More