What to See – State of Play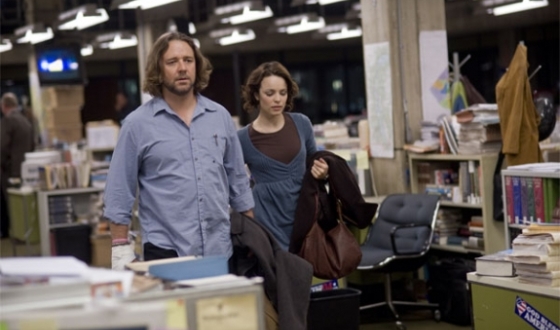 State of Play" width="560″/>
State of Play is full of modern references — bloggers versus journalists, the bleak media-merger landscape, private security run amok — but there's something agreeably retro about it, too. Playing an old-school journalist, Russell Crowe takes new-school Internet columnist Rachel McAdams under his wing to investigate the death of a highly-placed congressional aide. (Ben Affleck plays the Gary Condit-like representative.) Directed by Kevin Macdonald ( The Last King of Scotland ) from a BBC miniseries, State of Play manages to combine a drama that offers cautionary notes about journalism with a thriller that has the brute intensity of a ransom note.
Imagine All the President's Men shot like a Bourne film — or if The Pelican Brief
added raw observations about journalism and public power between its
killings and chases — and you'll get a sense of what a smart, sleek
pleasure State of Play is to watch. Part of that credit has to go to the film's dream team of screenwriters: Tony Gilroy of Michael Clayton and Duplicity lends his acid snap to the proceedings; Billy Ray of Shattered Glass
keeps exploring the politics, publicity and profit of modern
journalism; Matthew Carnahan, who previously demonstrated he didn't
pull punches with The Kingdom , makes his mark in many of State of Play's gutsier moments.
State of Play is concerned with who did what to whom in the dead of night, like a good thriller should be, but it's also looking at other things, too — like what happens when chasing the big headline becomes more important than getting the true story. Crowe is dogged and determined and, when the bullets points of his
story lead to actual bullets, he's appropriately scared. Affleck might
seem too shallow and handsome to play a congressman, but then you realize
that's sort of the point. McAdams is the youngest and least-experienced
actress in the film, playing the youngest and least-experienced person
in the room. Not to mention two juicy supporting parts — Helen Mirren as a
bottom-line publisher and Jason Bateman as a distracted, depraved P.R.
man.
Macdonald's direction also makes State of Play feel, perhaps, better than it is; the hand-held camera gives scenes a you-are-there feel, while the screenplay puts so much tension in those scenes that you want to be anywhere but there.The movie is like a high-end film version of a very good page-turner, the sort of book you'd be glad to have on a long plane flight — and considering how many big-screen thrillers end up failing to thrill, that's actually high praise. State of Play mixes murders and mergers, foot-chases and fact-checking, gunshots and cutting cynicism; it's the rare suspense film with style, muscle and brains.
Read More