What to See – Observe and Report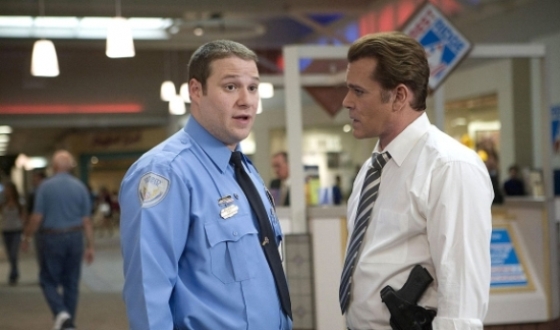 Observe and Report" width="560″/>

Plenty of wags have been calling Observe and Report "Travis Bickle, Mall Cop," paralleling the new comedy with both Paul Blart, Mall Cop and Martin Scorsese's Taxi Driver . That joke has some truth behind it. Written and directed by Jody Hill ( The Foot Fist Way ), this Seth Rogen vehicle starts with The Band's version of Bob Dylan's "When I Paint My Masterpiece" playing over the opening of the Forest Ridge Mall, a peaceable kingdom overseen by over-confident, under-prepared Ronnie Barnhardt (Rogen), a knight in shining polyester. Ronnie wants to paint his masterpiece, too. For him that means keeping the mall safe, making his affections known to cosmetics saleswoman Brandi (Anna Faris), and maybe one day even becoming a real cop.
But Ronnie isn't challenged by just one of those goals; he's challenged by all of them. Awkward and arrogant, a bully and a coward, Rogen's Ronnie is a tour-de-force — not just big, broad comedy and amazing fights, but also quieter moments as Ronnie tries, and occasionally succeeds, in doing the right thing between long, deep spirals off the deep end.
Writer-director Hill and his whole cast, are getting away with something here, and they know it; as Hill said at the film's premiere at SXSW, "I want to thank Warner Bros. for letting us make a weird-ass film with their money." Full of bad decisions and worse behavior — that not only shocks, but, even more impressively, leads to big comedic payoffs — Observe and Report is a disquieting comedy. As it closes, your laughter takes on a curious edge: Are my fellow theater goers laughing at what I'm laughing at? Or are they laughing because they've confused the ending with a happy one?
Observe and Report may have notably quotable lines ("Why would I blow up the Chick-fil-a? I love Chick-fil-a!" ) and scary-funny fights, but it also has more than a little heart, like when Ronnie finally connects with a lonely, lovelorn cinnamon bun salesgirl (Collette Wolf) or gets real with his alcoholic mom (Celia Weston). And Ray Liotta — yes, Ray Liotta — steals scenes by performing in a way that suggests he doesn't know this is a comedy at all. Observe and Report isn't a masterpiece — and I'm worried it's so bizarre and bold it'll die a sad death at the box office — but if you want to be part of the What-the-hell-was-that? conversations that'll be taking place all across America on Monday, it's worth seeing.

Read More