What to See – Adventureland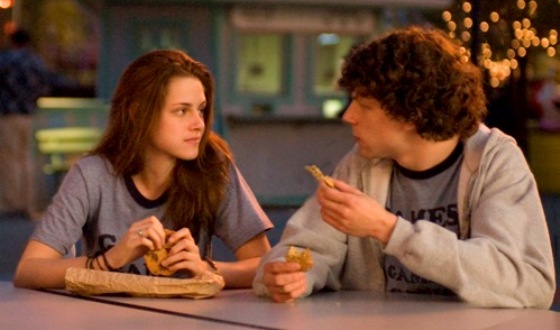 Adventureland" width="560″/>

Set in the summer of 1987, Adventureland is the latest from Greg Mottola, director of the gross-out hit, Superbad . In Adventureland, Jesse Eisenberg plays James Brennan, a college graduate whose plans for summering in Europe before grad school at Columbia get downsized to staying with his parents and taking the only job he can get — at the local amusement park. There, James makes friends like Joel (Martin Starr), a sardonic pipe-smoking nerd, and Em (Kristen Stewart), the dark-eyed queen of the carnival, and tries to get by and stay high until things get better.
Unlike Mottola's Superbad, Adventureland isn't a rollicking romp, even though it's quite funny; instead, it's more lived-in and heartfelt. There's a certain amount of romantic confusion in the air in Adventureland — does Eisenberg want to pursue Stewart's sensitive-but-secret heart, as she stands slouched in her camouflage jacket, or is he more interested in the obvious temptations of Margarita Levieva's acid-washed temptress? But in a lot of ways, Adventureland plays like a mid-'80s update of Richard Linklater's Dazed and Confused — the plot's less important than the music, the moments and the minor victories.
Even if Adventureland doesn't have much happening in terms of its plot– and, really, did your teen years have a classical three-act structure? — Mottola makes sure there are other things to charm. Bill Hader and Kristin Wiig play the park management, and while they're big, they're never broad. Ryan Reynolds is surprisingly sympathetic as a handyman who's using his dead-end job at the park to delay growing up even as he dispenses "wisdom" to Eisenberg. And Eisenberg's romance with Stewart is naive and tentative and heartfelt, so much so that it feels not just real, but right.
But if anything brings back '80s memories, it's how Mottola makes the music a central character in Adventureland. Stewart, at one point blasts Husker Dü's "Don't Wanna Know if You Are Lonely" to signal her mood; Reynolds gets caught in a lie and exposed as a liar and a fool by not knowing the exact title of a single. When Eisenberg looks at Levieva gyrating to Falco's "Amadeus," it looks less like the swaying of a seductress than the cavorting of the damned; when Eisenberg runs from an angry customer, Judas Priest's "Breaking the Law" sets the scene. It's a pitch-perfect use of music as background, but it's also, at the same time, more than just music as background.
Mottola's movie isn't a revelation, but it is surprisingly good — it's as sweet as it is slight, as heartfelt as it is hilarious. Mottola gets how your worst job in your youth can lead to your best memories later on, and how first loves often last forever in your memory. Adventureland is funny, sure, but if you're in the right age bracket or the right state of mind, it'll strike a chord that's somehow sad and hopeful as well as real and familiar.
Read More