Web Stalker – New Freddy for Elm Street 2.0 Haunts Fans' Nightmares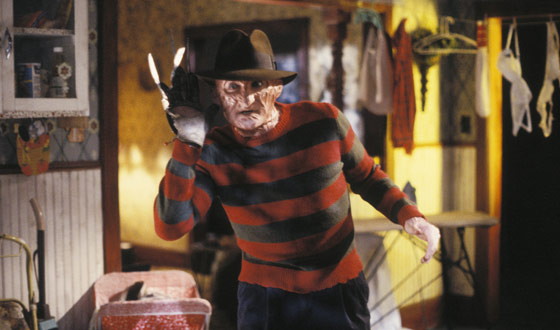 got the first official confirmation of the news, and pondered "the great, incessant question: Will Robert Englund be back? [Producers Brad] Fuller and [Andrew] Form say they're seeking someone new to don the hat and red 'n green sweater, but they're hopeful Englund will be back for a part in the film." Reactions to the prospect of a new Freddy Krueger were predictably mixed.
One poster to a 100-page Elm Street thread on BloodyDisgusting.com said he worried that remaking such an iconic movie was too tall an order, to which a fellow concerned citizen responded, "Agreed… it's like asking someone else to do Al Pacino in Scarface. No one can ever match the quality & originality that Robert Englund brought to the screen." Others disagreed, like commentator Cotton the Egg Head: "I'm very happy Englund isn't attached to this remake as Freddy. After Freddy's Dead I'll never be able to take him seriously, and besides, to make the film a remake, a fresh Freddy is necessary, otherwise it would be too much like a new sequel."
The din soon quieted, as Platinum Dunes failed to release more information to sate the Freddy-loving masses. But now, with production scheduled to kick off in less than a month and casting underway, fans of the franchise are taking to their laptops in droves to praise (in some cases) and protest (in many more) the filmmakers' recent decisions. First came the fairly uncontroversial word that young actor Kyle Gallner (The Haunting in Connecticut) had been cast in the lead teen role of Quentin, but that was just a precursor to the big announcement that Jackie Earle Haley (the actor who found geek fame for his deft portrayal of Rorschach in Watchmen) would be replacing Englund in what was now being called a "reboot" of the original movie. Posters to the Elm Street board on IMDb.com had plenty to say on that casting coup, as evidenced by a thread titled emphatically "FREDDY IS GOING TO BE SHORT," which led to a prolonged discussion of the appropriateness of Haley's physique. "Unless they cgi the hell out of Haley or do some fantastic camera angles, it will take away some from Freddy's ominous presence," surmised one fan, before the conversation went in even nerdier directions. "All of the stupid people who think the killers these days need to be giants need to smarten up," declared ttop33. "Especially when it comes to Freddy. He is in the dream world. His size doesn't matter. Watch the original again…"
Such debates continued apace until Fuller saw fit to jump into the fray with a blog post defending the decision. "He was the only person we ever considered for the role," he insisted. "He was BD's first choice and there were many times during the negotiation that I came here and just looked at the fans casting ideas and realized that he was ONLY person who could play the role. We can't make all the fans happy, but those of you who are open to a new version of the Nightmare story have to be as excited as we are. Come on people, an Academy Award Nominated actor is playing Krueger."
Fuller's post inspired no less than 337 comments over the course of the next two days alone, the most dramatic of which came from a user named Nightmare_Remake_Protest, who whined: "Jackie Earle Haley is a fine actor, but as Freddy? Come on. I'm getting as many people as I can to not see this movie. Platinum Dunes has gone too far this time." The discussion only got more nonsensical from there.
Meanwhile, over at NightmareOnElmStreetFilms.com, Freddy obsessives continued the same debate they'd been having for weeks, ever since Ain't It Cool News linked to a weird video review of the movie's script, which, had, apparently, leaked.
An early responder who posted to the thread confirmed that in the leaked script, Freddy turned out not to be a killer-slash-molester after all, but some sort of scapegoat for the true culprits, the parents. "I loved it back in the day when Freddy was just one crazed motherf***** who killed because he loved it," bemoaned commenter Nine, Ten, Never Sleep Again. "Now we get into modern horror, with the horrid over analyzing of horror villains, and this is what you get! Trying to show Freddy as a somewhat sympathetic victim! Urgh." "Oh yeah," she added, referring to the fact that original character Nancy appears as a "goth chick" in the reboot, "The cast comes off bleeding [all] sorts of douchebaggery."
Posters all over the Internet agreed. A collection of their most succinct recent musings:
"Ugh. What an assemblage of bland, unrealistic characters."
"I was hoping for something more mature."
"Freddy crashes a Guitar Hero party? Kill me now."
But perhaps the most intriguing entry was a lone post on the IMDb message board courtesy of commenter miafan18, who recapped a fanclub posting she'd seen as follows: "Gossip Girl's own Chace Crawford auditioned for the role of Jessie in the remake of 'A Nightmare On Elm St'. What we are hearing is that the casting director was so impressed with Chace's screen test, they gave him the role right on the spot. So We can be the first one to proudly say Chase Crawford will be in the reboot of A Nightmare On Elm St starring as Jessie."
The rumor calls to mind the brief furor started by Just Jared in February, when the blogger claimed that Lindsay Lohan had signed on to star. With that nonsense put to rest, surely the blogosphere needs someone on whom to focus their ire.
Chace Crawford would be a sparkling addition to all the drama, don't you think?
Read More