Web Stalker – Lars von Trier Unleashes His Antichrist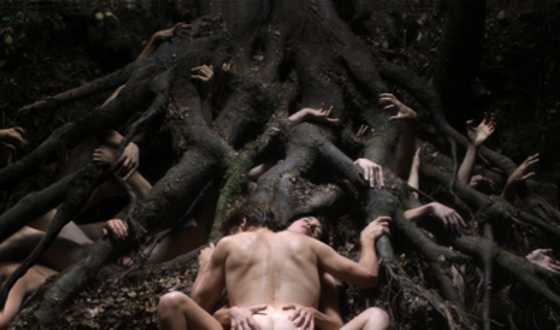 Antichrist" width="560″/>

It's been a long time coming, but Lars von Trier is finally getting back to his roots. And his roots are horror, which may surprise moviegoers who know him only as the art-house provocateur who rants about American culture, founded the minimalist Dogme 95 movement and made Bjork so angry she literally ate her own shirt. But back when he was starting out, the devilish Mr. von Trier's love of genre movies was front and center. So when he makes a movie callled Antichrist , you have to figure there's going to be hell to pay.
Von Trier's first feature, 1984's The Element of Crime , was post-apocalyptic noir; he followed it with the Cronenbergian Epidemic (1987), set in a world decimated by disease, and the visually audacious Zentropa/ Europa (1991), a tale of post-WWII malaise, with werewolves. And then came the miniseries Riget ( The Kingdom ), which made him a household name across Europe and was later remade (badly) for American television under the supervision of Stephen King. For a long time, Riget was the last we saw of the commercially minded, genre-loving and even slyly playful von Trier. But even as he dedicated himself to experimental fare, his love for horror lurked in the shadows, ready to emerge when the time was right.
The road to the hotly anticipated Antichrist has been a long and winding one; the movie was initially announced back in October of 2004, when von Trier was still editing Manderlay, the second installment in his projected "America Trilogy." He said he was going to take a break from the trilogy and needed "to earn some money." He intended to make a film "for a wider audience, a horror film not with vampires but more in the style of The Kingdom … I don't want to say any more," he continued, before saying this new project would be rooted in the idea that "it was not God, but Satan who created the world." Then, true to his perverse nature, von Trier went and made The Boss of it All, a morose comedy that very definitely did not find a wider audience.
Cut to September 2006, when Antichrist resurfaced, reported to be his next movie. And things seemed to be moving along nicely; by the following February it had been announced that he would be collaborating with Oscar-winning writer-director Anders Thomas Jensen on the screenplay, despite the fact that he and Jensen had feuded publicly. And then Antichrist vanished again, and this time von Trier pretty much dropped out of sight with it. Puzzling behavior for a filmmaker whose craving for the spotlight is palpable, and rumored to be connected to some sort of breakdown, which was plausible in light of his intensely neurotic nature but never confirmed. Von Trier wrote a screenplay for another director, and contributed a short segment to an anthology film about the cinema.
And then in February 2008, another announcement; von Trier said once again that Antichrist would be his next project and characterized it as as a "psychological thriller that evolves into a horror film." Somewhere along the way Jensen had been uncoupled from the script, which came as no great surprise given von Trier's history of doing everything himself. And so production began, veiled in secrecy… serious, don't want anyone to know anything secrecy. Even the fact that Willem Dafoe and Charlotte Gainsbourg were starring was held until after shooting began. Two weeks later, photos of four more cast members surfaced. Cast members named Bonifac, Blue, Fiona and No Name… a deer, a fox and two crows. Commenter Ichi-The-Killer was moved to ask jokingly on Twitch.com whether the animals would have speaking parts. Ha, ha, very funny… except that with von Trier you can never be too sure. So while attending the American Film Market last November, I put the question to someone from the Danish Film Institute. The answer was "Yes." Assuming this guy can be believed — and I have no reason to think he can't — von Trier has made a horror film with Willem Dafoe, Charlotte Gainsbourg and talking animals. Somehow I find this very disturbing.
Even more disturbing? The first — and, to date, only — still released by the production company. I'm not sure whether I find Willem Dafoe's naked posterior or the arms reaching up from between a tangle of tree roots, more disturbing, but it's plenty squirm-inducing. "This movie looks like it's going to be awesome, enthused MetalMachine489 on Bloody Disgusting). "The concept itself will make for a very surreal and different experience, and Willem Dafoe is seriously one of the best actors out there, especially in strange or odd roles." And just last week, the trailer appeared on the movie's official website. Response was instantaneous, widespread and generally very, very positive: "This. Looks. AMAZING. I love the horror genre, but it is a genre that is seriously neglected. It's so refreshing to see a horror film that looks to have an artistic point of view, or that isn't a sequel of something stupid that didn't deserve a sequal (the SAW movies) or a re-make of something stupid that didn't deserve a re-make (The Texas Chainsaw Massacre!). And casting Willem Dafoe is the ace in the hole. Merely his uber-creepy presence could have turned 27 Dresses into a horror movie." (Adam M, Film Experience)
"Goddamn, I love Willem Dafoe. Goddamn, this looks good. Goddamn, I'm sleeping with the light on tonight." (Paul Sileo, Film School Rejects)
"Lars Von Trier is not for mainstream tastes- but he hasn't let me down yet. Call him self indulgent all you will, the man makes films that stick with you." (Prevalent Mind, Worst Previews)
"I think and hope it will be excellent and creepy, much like The Kingdom!" (Jenni, Cinematical). Curiously, the bulk of the negative reactions came from horror sites, like this gripe from Dr. Frankenstein on JoBlo): "I like Willem DaFoe but this film has the look and feel of a 1980s-90's straight to video Horror sleeper, like I've seen this all before. Doesn't excite me at all."
And how do tIndustry heavy hitters in the industry feel about von Trier's return to the genre fold? Pretty good, apparently. Though the 2009 Cannes Film Festival lineup hasn't been officially announced, Variety reports that Antichrist has already been selected for the main competition. Not too shabby for a horror movie that started life as an unabashed cash-grab.
Read More