James Bond in Cowboy Boots? Believe It.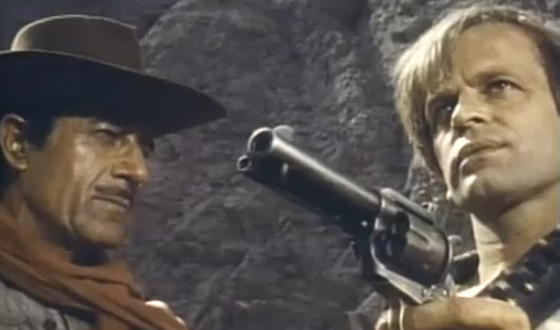 While John Wayne, Gary Cooper, and Clint Eastwood are virtually synonymous with six-shooters and spurs, the Western also lured some more surprising faces into the frontier. If you've seen more than a few Westerns, you shouldn't be too surprised: The genre has always relied on counter-intuitive casting. The typically feeble actors of Westerns comedies (see the cast of City Slickers) lent credence to their fish-out-of-water scenarios, while pegging lovable everyman Henry Fonda as a homicidal villain in Once Upon a Time in the West gave a menacing edge to an epic tale. And then of course some choices are, well, just strange choices.
Sean Connery, Shalako (1968)
James Bond in the Wild West? Not as implausible as you might think. In 1968's Shalako, Connery paired off with another visage not seen often in the Monument Valley, Brigitte Bardot, in this adventure yarn. He had just refused playing 007 in Her Majesty's Secret Service (he later returned to the role in Diamonds Are Forever ),
and he may have been trying to avoid being typecast. But he wasn't the
last 007 to go into Louis L'Amour land: Roger Moore got his start on
the TV series Maverick, playing Beauregarde Maverick, while in 2006 Pierce Brosnan appeared in the Seraphim Falls as a former Civil War soldier on the run for his life.
Sophia Loren, Heller In Pink Tights (1960)
The Italian sex symbol skyrocketed to fame by being both positioned as
steamy eye-candy, but she also turned in some powerful performances,
particularly in Victoria de Sica's Two Women.
Nevertheless, her acting range and eclectic roles doesn't make the
sight of her facing off with outlaws and gamblers, not to mention the
English language, in Heller In Pink Tights any less bizarre.
Mick Jagger, Ned Kelly (1970)
The Rolling Stones singer made a career out of incorporating American
musical styles into his sound. Or, less generously, ripping them off.
(There's still speculation about Gram Parsons's contribution to
country-tinged songs like "Honky Tonk Women.") Nevertheless, Jagger's
foray into cowboy movies is less likely to inspire controversy, at
least Stateside: It's strictly a Down Under affair in Ned Kelly, as the English singer plays the Australian outlaw of the title.
Klaus Kinski, The Ruthless Four (1970), and others
Klaus
Kinski was in a lot of films. Over 100. How did he do it? It's simple,
he wasn't onscreen for very long. Due to his generally crazy behavior,
directors usually made sure his tenure on set was brief. So it's not
surprising that Werner Herzog's arch fiend was in a number of
shot-on-the-fly Spaghetti Westerns, such as The Grand Silence and The Ruthless Four.
Nonetheless, it's hard to imagine an egomaniac like Kinski surviving
for long in the Wild West without getting his brains blown out.
Anne Bancroft, Walk The Proud Land (1956)
Years before she was Mrs. Robinson in The Graduate ,
luring a naive Dustin Hoffman into her MILF-y clutches, a younger and
less cougar-like Anne Bancroft was cast in the 1956 Western Walk the Proud Land. And one-upping her pint-sized co-star, who went on to play a Native American in Little Big Man , Bancroft took on the role of a grieving Apache widow.
Click here to watch The Ruthless Four on AMC's B-Movies.
Click here for a full schedule of Walk the Proud Land on AMC.
Read More