Uncategorized
Tribeca Film Festival 2009 – Naomie Harris (My Last Five Girlfriends) Has Different Rules Around Sex Than Her Character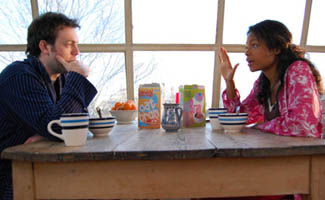 Who hasn't wanted to autopsy a past relationship gone wrong? That's the premise of Julian Kemp's My Last Five Girlfriends in which a man tells us about his former loves, among them one played by Naomie Harris who the main character believes to be "The One."
Harris will be familiar to fans of 28 Days Later and Pirates of the Caribbean: Dead Man's Chest . Girlfriends is her first time in a romance, and even if there's less action this time around, that didn't make the character of Gemma any less fun to play.
"I don't think the audience ever gets to fully understand Gemma's motivations or quite who she is, because Gemma hasn't really figured that out either," the actress explained. "She's young and still discovering what makes her tick and who she is — quite a challenge to play, but great fun!"
Given the appeal of the role, I asked Naomie "What part of her is most like you, and least like you?"
"I'm certainly not an easy-to-read person, or to second guess. But I don't have her careless disregard for other people's feelings. I'm really sensitive about hurting people, and I'm certainly not the type to sleep with a close friend's partner for the hell of it!" she said.
As in any love story, the couple has to meet cute. In this movie, it's cute with a touch of larceny: Duncan plants stolen goods on Gemma so she'll get pulled aside and and he can buy some time to talk to her.
"Would you ever have fallen for that?" I asked.
"Personally, I would have been really upset if anyone pulled that shoplifting trick on me," said Harris. "But, after a while — a long while! — I'd probably come to the realization that any guy who works that hard to be with me should be given a chance, so long as he did a lot of apologizing first!"
For more on this year's festival, tune in to the AMC News Special on Fri., May 1 @ 11PM | 10C.
Read More