Tribeca Film Festival 2009 – Nine Days of Festival and Now Back to L.A.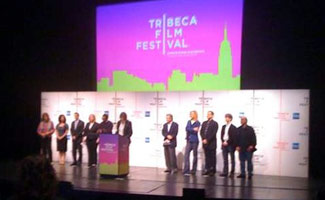 Hey guys. I'm coming to you in-flight on AA3 en route back to
California after nine days shooting the AMC News Tribeca Film
Festival Special. It's been a hectic bunch of days with lots of
running around the city, and yesterday, our last day shooting was no
exception.
I started the day interviewing adult film star Sasha Grey
from Steven Soderbergh's new film The Girlfriend Experience. Then I
caught up with Eric Bana about his documentary about cars called Love
the Beast. And at the end of the day we finished with a shoot in
Harlem and a drop-in to AMC News HQ for some voiceover.
It's not every week you get to hang out in April in a tropical-feeling
NYC with Woody Allen, Spike Lee, Natalie Portman, Danny Glover, Larry
David, filmmakers working on shorts, documentary directors and
Tony-award winning playwrights. But this week, as you know if you've
followed along with AMC News on Twitter, we got to do
all that.
I go back to work tomorrow for AMC News at the Star Trek premiere, so
stay tuned.
And stay tuned here to the AMC News blog for more, follow us on
Twitter, and tune or set your DVRs for our AMC News Tribeca Film
Festival Special on Fri., May 1 at 11PM | 10C.
Read More