Uncategorized
Tribeca Film Festival 2009 – The Good Guy's Alexis Bledel Has a Thing for the Wall Street Look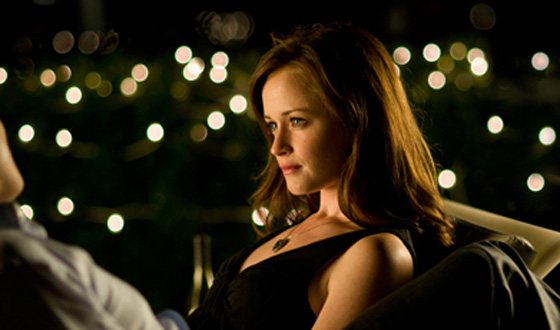 The Good Guy's Alexis Bledel Has a Thing for the Wall Street Look" width="560″/>

In The Good Guy, former Gilmore Girls star Alexis Bledel joins TV teen alums Scott Porter (Friday Night Lights) and Bryan Greenberg (One Tree Hill) for a grownup look at love and life on Wall Street. AMC News chatted with the lady-formerly-known-as-Rory about her role in the onscreen threesome and the elation — and tribulation — of catching films at the fest.
Q: Scott Porter and Bryan Greenberg, not a bad love triangle to be stuck in…
A: I know! And in the whole movie, the guys are all dressed up in their Wall Street-wear. Suits, nice shirts — and they all look really cute. It's a great movie for girls to go watch, I think.
Q: Aside from being torn between the two, what else intrigued you about the project and the role of Beth?
A: Well, I really liked the material and was excited to play my age. And to be back in New York. Plus, I just thought she was a really strong character. When the film opens, she thinks she's met the perfect guy, she's secure in her life — thinks she's in a really good place. Then, as Tommy's demons kind of surface, she doesn't put up with any crap. She's an interesting girl — and a relatable girl in so many ways.
Q: But Beth has her own demons… before Tommy, she was dating a married man.
A: Yeah, it's funny: There was actually a scene with him that I guess
didn't make it into the movie. Her ex comes to her workplace and wants
to take her out and she has a really hard time seeing him again. I
totally forgot that was in there until you just mentioned it. I just
saw [the movie] yesterday.
Q: You hadn't seen the film before the festival?
A: No, I just saw it at the screening with everybody else. But seeing
it for the first time at the premiere — seeing it with a full audience
— it's sometimes better than seeing it by yourself or in a screening
room with twenty people. You get to feel the full reactions to the jokes
and moments.
Q: What do you think the movie says about young guys on Wall Street — and their love lives?
A: Wall Street has changed a lot, especially in the last year. I think
what the film signifies is a move from the old way of thinking: What
constitutes a male/female relationship, what people's roles are, what a
good job really is. It's a new, recession way of thinking… with people
who maybe don't go out every night, stay home and read, eat dinner in.
It puts those two worlds, old and new, in stark contrast. It's kind of
timely and takes a look at what a fulfilling life really means now. I
think when young people see the film, they'll recognize themselves in
it — and their friends.
Q: Speaking of staying home and reading, a lot of the story centers around Beth's book club and what they're reading.
A: Yeah. Actually, the love-triangle part of the story is based on The Good Soldier,
which Beth and her friends are reading in their club. Apparently,
that's one of Julio's [DePietro, the writer/director] favorite books —
so there's a lot of significance to that. But the rest of the Wall
Street stuff is based on Julio's experiences when he worked there.
Q: One of the messages of the film is people aren't always what they seem. To most people, you're Rory from Gilmore Girls. Do you encounter a lot of preconceived notions based on that?
A: Oh, yeah. But I don't feel I'm anything like Rory. Aside from
sounding the same — and physically [laughs]. Usually people call me
Rory; I don't think they actually know my real name. But I was always
happy that she was a great character and very different from other
teenage characters on television.
Q: We actually talked to your The Good Guy co-star Anna Chlumsky (My Girl) about breaking free of child-star associations as an adult. You seem to be having success making that transition…
A: I guess. While doing Gilmore Girls, I wish I had been able to do more roles like I did in Sin City
— roles that were starkly different along the way. But I was working
within my time off from the show every year, which was three months. So
I had a limited pool of possibilities — whatever was going on during
that time. I think it'll be interesting, now that the show is over, to
see what happens. There are a lot more interesting roles that are
age-appropriate for me now: Young women, in their mid-twenties, from
college age to young professionals. My next film, Post Grad kind of picks up from the stage of life where Gilmore Girls left off. There's only so much you can do about the way people see you, so I don't try to fight it too much.
Q: So what's on your Tribeca Film Festival must-see list?
A: Everything I wanted to see is sold out! Things at the festival sell out so quickly. It's crazy.
For The Good Guy's festival showtimes, check out the Tribeca Film Festival site.
For more on this year's festival, tune in to the AMC News Special on Fri., May 1 @ 11PM | 10C.
Read More