Tribeca Film Festival 2009 – John Hurt Talks Harry Potter, Confirms His Return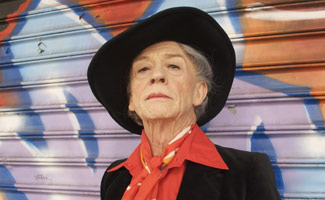 If John Hurt really likes something, he goes back for seconds.
In 1975, he did The Naked Civil Servant , playing gay icon Quentin Crisp for the first time. And at the Tribeca Film Festival, he's in An Englishman in New York, which picks up where Servant left off. But there's another role he's about to revisit — Ollivander the wandmaker for Harry Potter and the Deathly Hallows.
"Yes, that's up this year," Hurt told me on the red carpet for the premiere of Englishman.
"You must be looking forward to that," I said.
"Oh, yes, I do," he said with a smile. "It was great doing it the first time, and it's quite like revisiting Quentin Crisp, except not quite 33 years in between!"
Ollivander's role in The Deathly Hallows involves Voldemort keeping him captive at Malfoy Manor and torturing him to find out about the Elder Wand.
"It's a very crucial part of the last [book], if you think about the implications of it," Hurt said.
For more on this year's festival, tune in to the AMC News Special on Fri., May 1 @ 11PM | 10C.
Read More