Tribeca Film Festival 2009 – Steve Buscemi (Handsome Harry) Wants to Avoid Death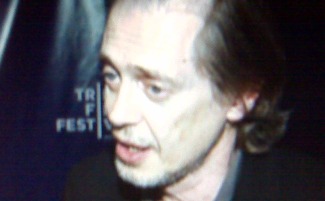 Steve Buscemi is worried about me.
I'm catching up with him Saturday night at the Handsome Harry premiere for Tribeca Film Festival. (He's also prominently featured in Blank City, a documentary about the New York No Wave film scene in the late '70s/early '80s, which had its red carpet just mere moments before this one).
Buscemi only has two scenes in the film, and during one of those, we only hear
his voice. In the one scene where we see him, his character is on his deathbed, so to speak — he's in the hospital, he knows he's dying, he's making his last request. So I try to ask Buscemi about it, and this is part of our exchange:
Me: "So tell me about your deathbed scene… What was it like to shoot that?"
Steve Buscemi: "Oh, I don't want to talk about that scene…"
He
talks about the director, Bette Gordon, his castmates Aidan Quinn and
Campbell Scott — who he did not have scenes with ("That's OK, I know
them, I don't want to work with them, they're both big hams," he jokes.
"I'm kidding! I love them both"), everything but his scene. I try again.
Me:
"But you usually have such flamboyant death scenes. What was it like to
do something more reserved, more subtle? How did this rate?"
Buscemi: "You just want to talk about death. You've got to get past this."
Me: "You're the one who shot it!"
Buscemi: "I'm worried about you! I'm worried you're obsessed with death! I think you should watch some Disney movies."
And after a beat, he adds, laughing, "Maybe I should, too."
For more on this year's festival, tune in to the AMC News Special on Fri., May 1 @ 11PM | 10C.
Read More