Tribeca Film Festival 2009 – Aidan Quinn Is All Mischief Before the Actual Interview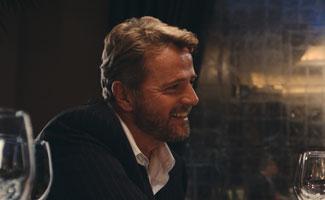 Aidan Quinn is the man of the hour at Tribeca — he's got not one film but two screening: Handsome Harry and The Eclipse. But that's not why we'll remember his visit to our interview space down at Thompson and Watts.
When he walks in the door, he turns to us and says, "Do you want me?" Our production manager Kym responds, "Yes!" You can take that any number of ways, as I point out to him later. "My pleasure," he grins mischievously.
Then, when he's in the makeup chair, Aidan tells our makeup guru Ann that his wife is filing a restraining order against him. ("Does that mean he's available?" she later asks us.) When he's done with her, he put his apple down on the makeup, right into a MAC compact, and then he gets up and walks away. Only a few minutes later, he comes back, grabs her arm, and asks Ann, "Do I look fat?" A little stunned, she tells him, "No, no, no. Black is very slimming."
While his cast mate Ciaran Hinds and The Eclipse
director Conor McPherson are in the interview chairs, Aidan yells from the wings,
"Don't trust that Nazi on the left! That Nazi with the Hitler
mustache!" We think he was teasing Ciaran but it must have been an
inside joke about his new facial hair.
And while they were finishing up, Aidan looked around at the rest of
us busy bees, many of whom were on their Crackberries and computers,
typing away. Aidan makes a funny face and gestures like he's
air-typing. He might have had a point, except right then his own
Blackberry goes off in his pocket, and he whips it out to type
something back. "You can't make fun when you do it yourself!" I tease
him. "I know, I know," he smiles sheepishly.
It's the smile that gets us.
For more on this year's festival, tune in to the AMC News Special on Fri., May 1 @ 11PM | 10C.
Read More