Tribeca Film Festival 2009 – Larry David Crashes the Farrellys' Red Carpet, Insults Cameraman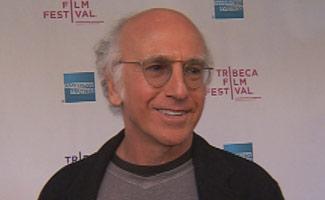 So we're on the red carpet for the premiere of the Farrelly brothers' documentary about baseball pitcher Luis Tiant, Lost Son of Havana, and along comes Larry David. He's a friend of the Farrellys and a baseball fan, which makes him want to see the film, but doesn't necessarily make him want to do the press line. Dragged into a photo op with Bobby and Peter Farrelly and Tiant, he protests, "But it's not my film!"
David then turns around, and sees a NY1 cameraman, who is kind of a one man band — he does the interview and he holds the camera. Larry is astonished.
"This is something I've never seen before! This is really unusual."
The cameraman tries to ask Larry a question about Curb Your Enthusiasm's upcoming seventh season, but Larry is stuck on the set-up. "Is this because of cutbacks?" he asks. "That's a shame."
Then he offers a solution.
"I'd give a friend — or even a guy on the street — ten bucks to hold the camera."
NY1 is not amused.
For more on this year's festival, tune in to the AMC News Special on Fri., May 1 @ 11PM | 10C.
Read More