Tribeca Film Festival 2009 – Geena Davis, Beautiful, Intelligent and… Insecure?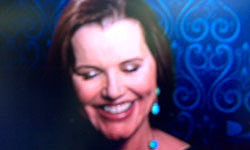 Stars — the big ones at least– get fussed over before the interview starts: Hair, makeup, stylist, or other tenders-to take their turn giving the person that extra pinch of fabulousness. So when Geena Davis sat down with AMC News to talk about her latest work, Accidents Happen, the former first female Commander-in-Chief (at least on television) found various hands all over her face, touching up her makeup, touching up her hair, touching up her clothes. She squirmed a little, like she was embarrassed by all the attention, so I tried to make her feel a little more at ease.
"Don't worry, you look beautiful," I told her.
"No, I don't," she said.
"Well, I would love it if I had someone following me around making me look beautiful," I said, gesturing to her helpers.
"Wouldn't that be great if they could do it in real life?" she asked. "All the time?"
Because even though she's naturally beautiful, even the lovely, intelligent, successful Geena Davis has insecurities. Not that you would guess once the camera rolls.
For more on this year's festival, tune in to the AMC News Special on Fri., May 1 @ 11PM | 10C.
Read More