The Horror Limbo or How Low Will You Go in Your Effort to Get an Audience?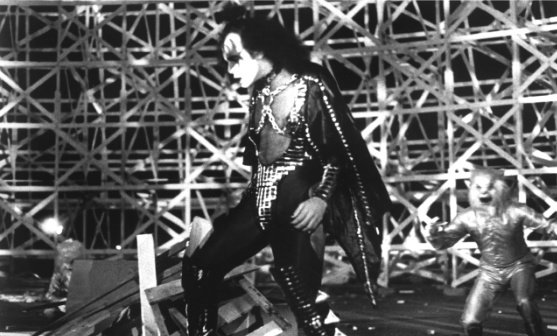 Today's new ghoul in town is tomorrow's old news. So what's a poor writer/director to do? It's called the horror limbo, a shameless "how low you can go" attempt to sell tickets through mashing up monsters, crossing genres, and putting trendy spins on the tale to keep up with the times… Embarrassing? Sometimes. Hugely entertaining? We think so. Take these fine examples:
1. Jesse James Meets Frankenstein's Daughter (1966)
In 1931, Frankenstein was the crème de la crème. Fast forward 35 years: That old Frankenstein magic… not so magical, what with the kids hopped up on UFOs and atomic jitters. Hence Dr. Frankenstein's granddaughter (title notwithstanding) and her ignominious run in with the famous outlaw in this ultra-cheap horror-western. Dumb. Delightful.
2. Queen Kong (1976)
Of all the indignities heaped on the king of Skull Island, this limp spoof about a lady ape lusting for a dippy hippie named Ray Fay is the most notorious. "She's in one of her moods again," tittered the poster, which is as funny as it gets. It was timed to cash in on the release of Dino DeLaurentiis' much-hyped King Kong remake; he sued and the ape himself should have done the same.
3. Dr. Black and Mr. White (1973)
Dr. Jekyll's alter ego has come in many forms: Ugly Hyde, suave Hyde, Hulk-like Hyde and even sister Hyde. But the ultimate exercise in pandering is the blaxploitation spin is this one in which an idealistic African-American doctor becomes a murderous white (actually kind of grey) racist. Oh, the times, they are a changin'.
4. Zoltan: Hound of Dracula (1978)
His name struck terror into the hearts of virtuous women! His legend haunted the darkness! His dog… pooed in the neighbor's yard? Actually, Zoltan the hellhound bites other dogs until he has his own vampire pack, including the cutest puppy ever. Watch genre regulars Reggie Nalder and Michael Pataki being thoroughly upstaged by undead doggies.
5. Kiss Meets the Phantom of the Park (1978)

Once the phantom haunted the Paris Opera House. But once high art ceased to be the average moviegoer's idea of fun, the phantom took to less classy digs: Malls, rock clubs and amusement parks like California's Magic Mountain where he tussled with gimmicky '70s glam-rockers KISS, who have superpowers to match their platform boots. See them fight their robo-dopplegangers… or not.
6. Zombie Strippers (2008)
They're cold. They're hot. Their headliner is porn star Jenna Jamison. Dude, is that hilarious or what? Actually, it's pretty creepy — it's that whiff of necrophilia.
For a mad monster party, see House of Dracula on AMC. See full schedule.
Read More