Stacie Ponder – Christopher Lee and Peter Cushing… Horror's Original Bromance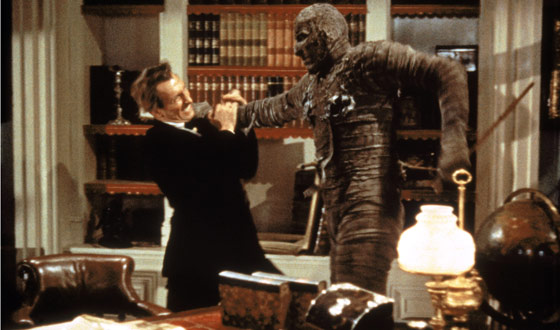 I blame my mom for making me a huge fan of Hammer horror. She was heavily into the production company's Dracula films, which means that I was too. I was probably the only kid at my elementary school who had any idea who Christopher Lee was. I'm sure my peers would have recognized Peter Cushing, however…not as the man who was always Van Helsing to Lee's Dracula, but for his role as uber-baddie Grand Moff Tarkin in Star Wars . For me, though, Cushing and Lee mean horror: They've appeared side by side in more than fourteen genre flicks and off screen they became best friends. Truly, two great tastes that taste great together, bonded forever in my mind like salt and pepper, or even Salt and Pepa. Here are some of my favorite Cushing/Lee joints:
The Curse of Frankenstein (1957)
A monumentally important fright flick that marked the resurgence of Gothic horror. With Frankenstein, Hammer Studios picked up the mantle abandoned by Universal and began their foray in the world of monster movies. Interestingly, this effort focuses largely on the doctor (Cushing) — instead of his abominable creation — as he recounts his life story to a prison priest. Once you see Christopher Lee's pasty image as the Monster, however, you won't likely forget it. This movie saved Mary Shelley's creation from the comical turn it had taken (before Curse, the Monster's last film featured Abbott and Costello).
Horror of Dracula (1958)
The first in Hammer's series of Dracula films amps up the melodrama and sexuality from previous adaptations of Bram Stoker's novel. Gothic sets, gorgeous costumes, and thick atmosphere mark this as one of the finest vampire movies, period. Lee cuts an imposing figure as the mysterious Count, while Cushing will have you rooting for Dr. Van Helsing. The King of the Undead and the Good Doctor would face off again in Dracula: Prince of Darkness , Dracula AD 1972, and The Satanic Rites of Dracula.
The Mummy (1959)
They'd already tackled Dracula and Frankenstein so it only makes sense that Cushing, Lee, and director Terence Fisher would join forces again for The Mummy. There's not much variance in mummy movies: Someone defiles a tomb, mummy gets his mad on. The devil, though, is in the details. Lee, in particular, makes a mighty fine bandaged nightmare. Although he doesn't speak, he's still completely terrifying as he looms ten feet high. His costume is better than any CGI-ed counterpart. Cushing is perhaps at his best here, transforming from a non-believer to someone who's finally convinced that yes, the dead will walk the earth if you ransack their final resting places.
Dr. Terror's House of Horrors (1965)
I've mentioned here before how appealing I find anthology films to be, and this one from Amicus Productions is no different. I mean, with a title containing the words "terror" AND "horror", this movie's got to be face-meltingly frightening, yes? Well, no. But that doesn't mean it's not fun. Cushing dons all manner of fake facial hair for his role as Dr. Schreck (which is German for "terror", duh), a tarot card-reading fortuneteller. Schreck boards a train and reads the cards of five passengers, including snooty art critic Franklyn Marsh (Lee), and we learn that they've all got bad times a-comin' from werewolves, vampires, angry sentient plants, and disembodied body parts.
Scream and Scream Again (1970)
Alright, this one hardly counts, as Lee and Cushing make little more than a couple of cameos. Still, Scream and Scream Again features the duo with Vincent Price and bears the immortal tag line, "Triple Distilled Horror…as powerful as a vat of boiling acid!" There's plenty for horror buffs to chew on here. The flick is a convoluted late-'60s hot mess replete with psychos, evil scientists, jazz, the longest chase scene in history, and yes, a vat of acid. The seemingly infinite plot threads don't come together all that well, but don't let that stop you from seeking this film out. You won't be bored!
Peter Cushing died in 1994, but Christopher Lee is still going strong well into his '80s, with several movies on the way over the next year. Elementary school kids today might even know who he is, since he got his Jedi on as Count Dooku in Star Wars Episodes II and III . Of course, I'd like to think he took on the role as a tribute to his old pal Grand Moff Tarkin.
A fan of horror movies and scary stuff, Stacie Ponder started her blog Final Girl so she'd have a platform from which she could tell everyone that, say, Friday the 13th, Part 2 rules. She leads a glamorous life, walking on the razor's edge of danger and intrigue.
Read More