Scott Sigler- Years After the Killings, Patrick Bateman and Puppetmaster Have New Careers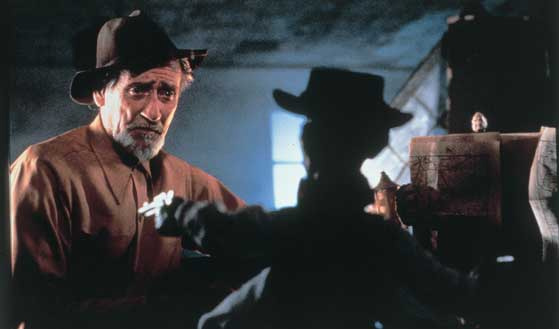 Ah, the seductive delights of Hollywood premiere parties! Delicious starlets, the Leatherface Twins (aka Joan and Melissa Rivers) critiquing your look, the glorious high of knowing your movie is lighting up screens all over America….
It's glorious that is, until the spotlights dim, the party invitations dwindle and it's clear that the time to move on has arrived. Many horror icons stay in the business as consultants, directors and producers. But some leave the game altogether and find fresh territory to plunder. Here's a look at four horror icons who found beyond Tinsletown.
Patrick Bateman (American Psycho), AIG Executive
It's really no surprise that the bloodthirsty killer Bateman continued his corporate career, or that he transitioned into insurance. "I like to destroy things," Bateman said, with the merest hint of a smile. "For me, AIG just feel like home." It also turns out that Bateman was instrumental in the diversion of millions of taxpayer dollars into bonuses for AIG executives — the same executives who lost billions on ireckless financial gambles.
"Dude," said Bateman. "I can throw a chainsaw down, like, several flights of stairs and hit a running target. Do you really think some senator is going to deny me my bonus? Patrick gets paid, son, Patrick gets paid."
Puppetmaster Andre Toulon, Seasame Street puppeteer.

Toulon thrilled pre-WWII audiences with such delightful puppets as Blade, Jester and kiddie-favorite Leech Woman. But in private, the master manipulator gave in to some perverse private demons: Following a protracted court battle with international superstar Kermit the Frog, Toulon was sentenced to serve 15 to 30 years for muppet molestation (a word to the wise: Never, ever go up against someone with Kermit's bottomless coffers).
While at San Quentin, Toulon learned what they do to puppets in prison, but after completing 12 years of his sentence Toulon was let out on a work-release program sponsored by the Children's Television Workshop. "I basically spend eight hours a day with my hand up a puppet's butt," Toulon says, "which is kind of strange, considering that's what I did time for. But I intend to move up in the company, so I've been working on writing and directing." Unfortunately, Toulon's three self-produced specials, "Elmo Gets His Frickin' Head Torn off," "Grover Goes Cannibal" and "Big Bird Gets Burned Alive" remain unaired.
Horace Pinker (Shocker), Green Energy Advocate
Pinker thrilled audiences in his 1989 debut as an energetic serial killer. He had few roles since then, his only other significant credit coming from An Inconvenient Truth, where he once again played a bad guy — the evil destroyer of all things good and the bringer of endless doom (also known by the shorter name "electricity").
"I learned a lot from Al Gore," Pinker said. "Here's a guy who's winning Oscars and making millions by pulling on heart strings and preaching doom while racking up a carbon footprint bigger than King Kong boofing on a rain forest bong. I figure, if there's a sucker born every minute, why can't I get a taste?"
Pinker has become the poster boy for ethanol-based biofuels. However, his advertising campaign, "Ethanol: 'Cause Global Warmin' Goes Good With Moonshine!" has offended some critics.
Duane and Belial Bradley (Basket Case), The Law Firm of Bradley & Bradley
Blood is thicker than water, and families stick together. That's always been the philosophy of Duane and Belial Bradley, the formerly conjoined twins who have lived together their entire lives. In 1982, the brothers tracked down (and killed) the doctors who separated them, a life-changing event that pushed them into a new career.
"We just felt stupid," Belial said. "We came to New York bent on revenge, and we got that revenge, but only afterward did we realize it's very hard to sue a corpse. We could have cashed in."
Realizing their mistake, the brothers enrolled in law school at Ohio State University on a full-ride scholarship for disability ("I live in a frickin' basket, man," Belial said, "even Stephen Hawking can't top that."). They graduated at the bottom of their class, but quickly found success in the malpractice arena.
"We specialize in suing doctors for separating conjoined twins," Duane said. "It's a niche area, but we're doing fine. And if we're losing the suit, well, we just mail a copy of Basket Case to the defendant, and everything kind of works itself out."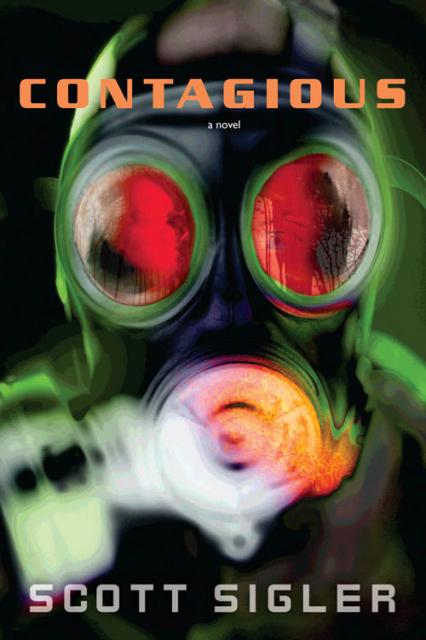 New York Times best-selling author Scott Sigler writes tales of hard-science horror, then gives them away as free audiobooks at www.scottsigler.com. His latest hardcover, CONTAGIOUS is in stores now. If you don't agree with what Scott says in this blog, post a note in the comments section below. Please include all relevant personal information, such as your address and what times you are not home, so Scott can come visit and show you his world famous "Chicken Scissors."
Read More