Q&A – Tom Everett Scott Shoots Glock With Race to Witch Mountain Props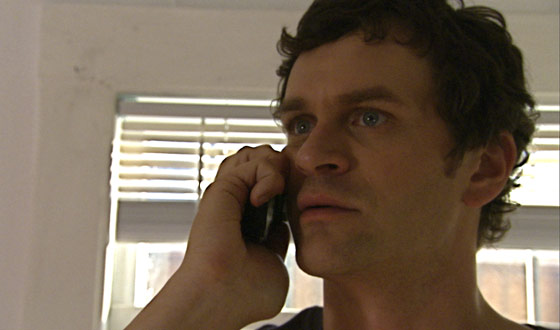 Glock With Race to Witch Mountain Props" width="560″/>

Tom Everett Scott gets compared a lot to Tom Hanks (the hair, that grin, the Everyman quality) — but after his directorial debut makes the film festival circuit, those comparisons will stop. Glock is worlds away from That Thing You Do! , not the least because it kicks off with a torture scene. Scott talked to AMCtv.com about shooting his hit-man short.
Q: How did Glock come to be?
A: I always wanted to write and direct, but I was too hard on myself. I'd write a page or two, rip it up, and never return to it. But then I got Final Draft on my computer, and after I loaded the program, I started writing, and I got a few pages in. And then Michael [McMillian, who plays Smith & Wesson], who I worked with on
Saved, he and I were getting drinks one night, and I said, "I have this idea." He liked it so much he wrote an outline for it. He's the one who had the idea about all the characters being named after guns, and that's where we got Glock.
Q: Where did you round up the rest — Beretta, Luger?
A: I was working with Lucy Liu on something [Cashmere Mafia] and she said she would be in it, but she had to pull out — she got busy with something else. Luckily, we got Krysten Ritter for Beretta. And Ciaran Hinds for Luger, I worked with on Race to Witch Mountain, and he's such a great guy. I said to him, "I don't want to risk our friendship over this, but will you do my short?" He was such a good sport. I didn't even really have to direct him. He's one of the best actors I could get, and I knew he would be great. He elevated the quality of my short an infinite amount.
Q: Did you call in a lot of favors?
A: A lot of stuff was tricky. We got props from Race to Witch Mountain, the retractable hypodermics [for the torture scene]. They're just filled with colored water, but that was fun. The chase scene, that was filmed from an electric camera dolly, and the key grip from That Thing You Do! owns that company. That was just by coincidence, but I was asking people how to film the race, "How would you do this?" And when I reached out, I got connected with somebody I had worked with in the past, who gave me an incredible deal on the equipment.
Q: What about raising the financing?
A: It was easier than I ever imagined it would be. I just asked somebody, "Hey, do you know anybody who would give me the money?" And then that person gave me the money. The rest was from family and friends. And then I felt guilty. But all the post production was out of pocket. That's OK, I was glad to do it. It was a fine experience, and getting it into Tribeca was what it was all for, to showcase it in a quality festival. And hopefully that'll give me the confidence to dive into my next writing/directing project.
Q: Which is… ?
A: I have this idea for a feature, maybe another short, which is a mystery-based comedy.
Q: Those two don't really seem to go together…
A: Well, when you say mystery, that makes me think Agatha Christie. This is more of a dark comedy, more crime, like Raymond Chandler set today, with all those sets of characters, and stumbling through trying to solve a murder which becomes several murders…It's not Castle.
Q: What about revisiting the characters in Glock, except for, well, Glock himself?
A: We talked about that. We could do a whole series about Beretta, like, "What is her story?" Do something that goes from the point of view of all the different characters…
Q: What was the hardest thing about directing, now that you seem to have a taste for it?
A: Well, on my first day of shooting, my first day of directing, I was strapped in the chair. And Ciaran goes, "Make sure his straps are tight!" It was nervewracking. But I thought, if I can get through this, I can do anything.
Glock first screens on Fri., Apr. 24 at 9:30PM at the AMC Village VII.
For more on this year's festival, tune in to the AMC News Special on Fri., May 1 @ 11PM | 10C.
Read More