Uncategorized
Q&A – My Girl's Anna Chlumsky on Her Comeback at the Tribeca Film Festival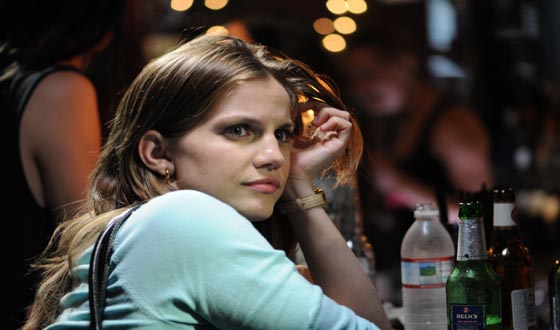 My Girl's Anna Chlumsky on Her Comeback at the Tribeca Film Festival" width="560″/>

Former child star Anna Chlumsky of My Girl is all grown up and gearing up for her return to the big screen. AMC News talked her about life after Vada Sultenfuss and her two films premiering at this year's Tribeca Film Festival — British politi-farce In the Loop and Wall Street romance The Good Guy.
Q: You took several years off from acting. What made you decide to go back?
A: It was a case of realizing that this was what I was meant to do. I had tried other things, but I wasn't happy… wasn't fulfilled. I thought, I can't be a grandmother one day with my grandkids on my knees, telling them to reach for their dreams, when I gave up. So I needed to try again… even though it was scary — and I haven't looked back.
A: I think it made me stronger. I learned a lot of things by doing that. I could have a gone a more negative way: Oh, everybody is reminded of that. But I recognize how people really love that movie. So I think how fantastic that I was involved with something that touched people. Also, professionally… it was that proverbial foot in the door.
Q: So how did you become involved with In the Loop?
A: That was just beating the pavement. I was all excited about it because I'm a BBC junkie, although I hadn't seen the show The Thick of It because it never came out in the States. After I hooked up with those guys, I watched it all on YouTube. For the audition, they said to know the lines, but we're gonna "go off." So you have that attitude, Well, who knows what's going to happen?
Q: Had you done improv like that before?
A: I never actually trained in improv. I do come from Chicago — Second City and Improv Olympic, those are big deals there. But the way I act, you prepare a lot and then you kind of just let it go. Also [the film] wasn't all improvised. It is written — by these brilliant writers — so the pressure was off once I realized you don't have to come up with anything funny. It's already there! The improvising was just, as [director] Armando [Iannucci] says, "To muddy it up a bit."
Q: The story centers on the events leading up to a possible war. Your husband served in Afghanistan. How did that affect your take on the film?
A: When Shaun was overseas it was a very personal thing — it was about men and women that I knew who were over there. So to play Liza — it's interesting — she's the opposite. In the end, she doesn't realize these people are more than a number, more than a victory or a loss. But I think that's a symptom — a characteristic for some — working in that world. Maybe sometimes the stuff you have to handle, you have to encapsulate it so you can deal with it, write the reports, etc.
Q: In The Good Guy you play the unlucky-in-love Lisa. Other than the name similarity, she's a very different character from In the Loop's Liza…
A: Yeah, the name thing was funny, right? But Lisa was different from any other character that I've played. I didn't spend that long playing her, but it definitely affected me. Because the choices she would make, she would suppress her impulses — and I found I started doing that in real life. It seeps in. But once I identified it, I was like Stop it!
Q: Your co-star in that film, Alexis Bledel ("Gilmore Girls") was another child actress. Did you bond over that?
A: I think we had vastly different experiences — she's had a wildly different kind of success. She's an absolute sweetheart! She told me she read that I was into food and into cooking — and she's really into cooking, as well. Sometimes actors are afraid of having other interests. But you must have other interests, so we talked about the importance of that.
Q: How do feel about being in two films on worlds (Washington and Wall Street) that are at the center of everything right now?
A: I'm a big fan of writers like Peter Morgan of Frost/Nixon — people who recognize that no matter what industry you're in, it's still run by humans. Tom Hollander (In the Loop) had a quote about the story we were telling: "Ordinary people in extraordinary circumstances." In The Good Guy, I didn't work in the Wall Street part of the story as much, more the personal part. But Scott [Porter] & Brian [Greenberg]'s characters — they do have outside lives that affect how they deal with things. I think that's why both these films are at Tribeca. People want to see the human side of those industries. You know, I actually haven't seen The Good Guy yet. But, come hell or high water, I'm gonna catch it at one of the screenings!
The Good Guy first screens on Sun., Apr. 26 at 6PM; In the Loop screens on Mon., Apr. 27 at 8:30PM. Click on the links to see which theaters they'll be playing at, and alternate screening times.
For more on this year's festival, tune in to the AMC News Special on Fri., May 1 @ 11PM | 10C.
Read More