Now or Then – Observe and Report or Paul Blart: Mall Cop?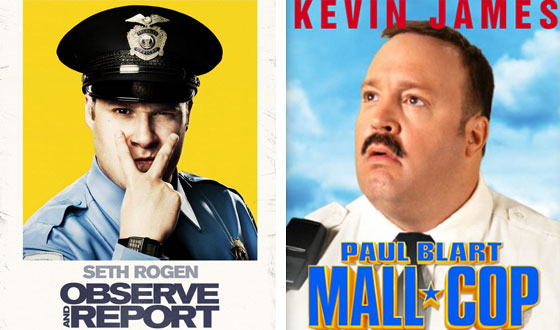 Observe and Report or Paul Blart: Mall Cop?" width="560″/>
Now: Observe and Report (2009)Then: Paul Blart: Mall Cop (2009)
If two movies ever begged for a side-by-side comparison, it's the dark, twisted new comedy Observe and Report and the sleeper hit Paul Blart: Mall Cop, released back in January. After all, it's not often that a segment of the population as obscure as mall enforcement officials winds up the subject of two top-tier releases just months apart. (One imagines that the poor dudes who spend their days policing Hot Topic patrons are having quite a field day.) The two movies have their similarities and their differences, but Observe and Report star Seth Rogen has claimed, "They're totally different movies." Is that true? Or just wishful thinking on his part? Read on!
Our Portly Protagonist
Observe and Report: Seth Rogen stars as pimply, out-of-touch head of mall security Ron Barnhardt, whose bi-polar leanings and delusions of grandeur continually derail his schemes. Vehicle of choice: The go-cart.
Paul Blart: Mall Cop: As the titular middling mall cop, Kevin James (The King of Queens) plays a double-chinned sad-sack who lives with his mother and the daughter he sired with a woman who dumped him at the altar. Vehicle of choice: The segway.
The Winner: Observe and Report. Rogen gets points for not being afraid to test the boundaries of his approachable chubby-guy appeal.
Our Jerky Antagonizer
Observe and Report: As swaggering Detective Harrison, Ray Liotta makes the best of his underwritten role, confirming his status as one of Hollywood's favorite tough-guy foils.
Paul Blart: Mall Cop: Hollywood surely took note of Stephen Rannazzisi, whose shiny-shirted, gel-slicked bully takes douchebaggery to the next level.
The Winner: Observe and Report. You gotta love a "serious" actor who isn't afraid to give his all for the goofiest role.
The Objects of Their Affection
Observe and Report: Anna Faris embodies the dumb, self-obsessed, empty-vessel role to perfection, but gets demerits for agreeing to shoot a sex scene that makes light of rape.
Paul Blart: Mall Cop: Sweet, forgiving girl-next-door type Amy (Ugly Betty's Jayma Mays) tones it down with a performance that spells future mainstream roles for the budding talent.
The Winner: Paul Blart: Mall Cop. Mays takes this one in an upset victory, mostly due to the former's pesky rape scene (see above).
A Hero's Journey
Observe and Report: When an elusive exhibitionist starts flashing everyone in sight (you'll want to cover your eyes whenever his trench coat comes into view), Barnhardt and his buddies vow to beat the police in collaring the perp.
Paul Blart: Mall Cop: While singing painful karaoke at a video-game store near closing time, Blart winds up the only who can save the mall (and comely hostage Amy) from a gang of skate-boarding marauders.
The Winner: A tie. Both plot lines are pretty ludicrous, but believability is hardly what makes either of these movies tick.
The Verdict
The Winner: Observe and Report. Hands-down! Genre-bending and weird beats broad and bland every time.
Read More