Now or Then – Fast & Furious or Talladega Nights: The Ballad of Ricky Bobby?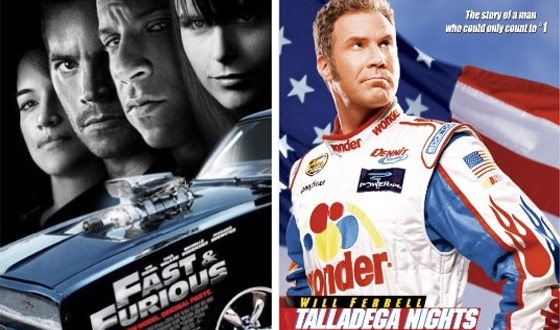 Fast & Furious or Talladega Nights: The Ballad of Ricky Bobby?" width="560″/>

At first glance, the 2006 comedy Talladega Nights might not appear to have a lot in common with the latest entry in the Fast and Furious action franchise. That's the problem with first glances though. You miss all the nuances. When you consider their settings (the high-stakes world of race-car culture) to their audience-beloved stars (Will Ferrell, Vin Diesel) to plot arcs that throw life-defining obstacles in the paths of characters with plenty to lose, these movies are actually two-of-a-kind. Neither is a masterpiece but one merits a break from your regularly scheduled NASCAR programming. Can you guess which?
The Man in the Driver's Seat
Talladega Nights: Will Ferrell takes the lead as the love-handle-sporting NASCAR champ Ricky Bobby, with dimwitted best friend Cal (John C. Reilly) as his co-pilot, a gorgeous wife on his arm (Leslie Bibb), and a comely assistant (Amy Adams) who's blindly devoted to the cause.
Fast & Furious: On-the-lam tough guy Dom Toretto (Vin Diesel) heads up a gang that includes his gorgeous sister (Jordana Brewster) and his romantic interest (Michelle Rodriguez), as well as racing renegades played by Tego Calderon and T.I.
The Winner: A tie. Vin Diesel is hard to beat for sheer box-office might, but the big-bearish funny man who brought us Anchorman and Elf has equally devoted die-hard fans.
When Things Go Awry
Talladega Nights: When master French driver Jean Girard (Sacha Baron Cohen) arrives on the scene, Ricky Bobby's life and legacy are thrown into turmoil. In short order, he winds up wandering about the track while babbling incoherently in his underpants.
Fast & Furious: Once Diesel's tank-top-loving Dom gets word that his beloved has been murdered, he's forced to avenge her honor by teaming up with his former nemesis (Paul Walker) to right the wrong.
The Winner: Talladega Nights. Few comedians do existential despair better than Ferrell ("Milk was a bad choice!"); who wants to watch Vin Diesel stare glumly off into the distance for the better part of a movie? More ass-kicking and explosions, please!
Ass-Kicking and Explosions
Talladega Nights: One unexpectedly gross arm-breaking and a few big-budgety collisions at the track keep things lively. At best.
Fast & Furious: Diesel raises his mighty fists from time to time, but the movie's real excitement comes in the form of the series' signature pulse-racing battle scenes, in which gloriously souped-up cars are used as weapons of destruction.
The Winner: Fast & Furious. Like its predecessors, this sequel delivers dirty fights, high-speed chases, and a veritable parade of things getting blown up. Love it.
The Verdict
Talladega Nights: Though it's less satisfying than Ferrell's biggest hits, this comedy has its moments. And it's better than you remembered, the second time around.
Fast & Furious: A lame romantic subplot derails what should have been an unapologetically superficial ode to burnt rubber.
The Winner: Talladega Nights. As mindless entertainment goes, this one gets the gold. (Heh.)
Read More