New Moon Mania – Twilight Rumor Mill Approaching Critical Mass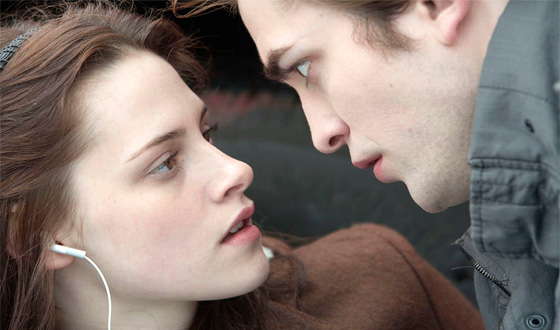 New Moon Mania – Twilight Rumor Mill Approaching Critical Mass" width="560″/>

The web is suddenly awash in a red river of gossip about everyone's favorite Judy Blume-ish vampire saga, Twilight, perhaps because the sequel, New Moon, officially began production in Vancouver. Cue the ecstatic swooning in all areas with access to the Robert Pattinson fan club. Over the past week no fewer than three mind-blowing (!) events shook the Twilight community to its core. And the din is unlikely to abate any time in the foreseeable future: There are two more books, Eclipse and Breaking Dawn, and if New Moon's box office is anything like Twilight's, they'll both get the big-screen treatment as well.
This week, Screenrant.com broke the news that on set squabbling had threatened to derail production on New Moon, claiming that "It seems that star Robert Pattinson has been butting heads with director Chris Weitz over not only script decisions, but apparent favoritism towards cast newcomer Dakota Fanning." They went on to suggest that producers were seeking a replacement for Pattinson. A seemingly unrelated post that appeared the same day on PopSugar.com reported that "Robert has suddenly dropped out of filming New Moon, saying that all the fan attention was too much for him." Predictably, readers freaked out; comments ranged from "this BETTER be a joke" to the much more succinct "Dicks".
Both stories turned out to be April Fool's jokes (Note to all: Take any outrageous rumor about anything that surfaces on April 1st with a super-sized grain of salt), so the Facebook-group panicking and message board upheaval were for naught. Whether or not the sites were in cahoots remains unclear, but the Twilight gossip bonanza didn't stop there.
On Thursday, Examiner.com picked up on a Twilight-obsessed blogger's post about Cullenism, a weird new quasi-religion involving worship of the bloodsucking Cullens. It purports to have a significant following among the books' youthful devotees. Examiner.com's Amanda Bell summed up widespread web disdain for such fanaticism in her piece, which concluded: "It is one thing, in our fandom of the series, the film, its cast, etcetera, to spend inordinate amount of time, say the fans, on reading, re-reading, discussing, and watching things about the series, but it is a whole other to devote the core of one's faith to a set of fictional books and films, don't you think?" Tortured syntax aside, yeah, what she said. A fan on the "Because I read Twilight I have unrealistic expectations in Men" Facebook page (yes, such a group exists) summed up our feelings more succinctly: ""Wow…such bull***."
Meanwhile, posters to the TwilightSaga.com forums are still parsing rumors that High School Musical's Vanessa Hudgens may make an appearance in New Moon (widely disseminated reports had her auditioning for the role of werewolf Leah Clearwater). Will she or won't she? They don't know, but that hasn't stopped the chatter. Meanwhile, the actual, real revelation (reported by BBC News) that British actor Jamie Campbell-Bower has been cast as Caius promped widespread discussion of the 20-year-old's suitability to the role of an ancient, undead, Italian vampire-clan leader.
"Too young to play Caius!" cried most fans in despair, though a few dissenting voices rose above the clamor. "I AM THRILLED!," said one commentator in response to a post on LionAndLambLove.org. "This boy is extremely talented and beautiful and I adored him in Sweeney Todd . He is beyond capable of playing Caius — wonderfully no less." NewMoonMovie.org conducted a massive poll, and the results showed naysayers barely beating out their more positive peers. Alternative casting suggestions submitted by readers ranged from Clive Owen to Crispin Glover.
Don't expect speculation to stop until the movie opens. Speaking of which, one voice over at ComingSoon.net raised a good question, one we hope doesn't light a fire in the brains of excitable tween hordes. "I still don't understand how this is going to be released in November when [they're] still casting people," commentator Darum mused. "They're definitely going to end up pushing back the date."
Heaven help Summit Entertainment if they do: They'll have a worldwide riot on their hands.
Read More