Mary Robinette Kowal – Five Fantasies to Navigate the Labyrinth of Tax Season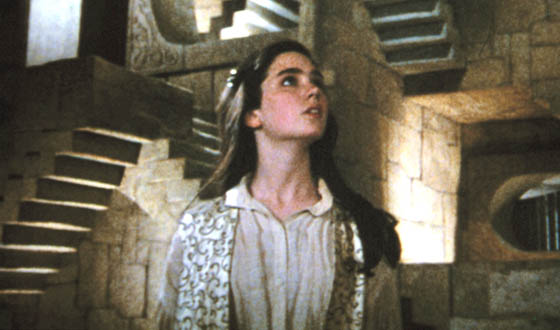 Taxes, ugh. It's that time of year again and the stress levels are rising in proportion to the lines at the post office. We've had months to do our taxes, but there's something about the process that makes putting them off the preferable alternative. Are you struggling? Have you begun inventing new and exciting ways to procrastinate? Let's turn to fantasy for a little help in managing the tax burden, shall we?
Labyrinth (1986)
The maze of regulations that surround taxes is simply overwhelming. It's no wonder that people follow Sarah's (Jennifer Connelly) example and do something more appealing instead. She spends hours in the park memorizing fairy tale lines when she should be babysitting her baby brother. Even after the baby is stolen and she has a clear goal, Sarah's procrastination has an enabler in the form of Hoggle (Shari Weiser and Brian Henson), who tries to delay Sarah from reaching the center of the Labyrinth before time runs out. Do you have a Hoggle standing between you and taxes — perhaps in the form of ESPN Fantasy Baseball?
Remember: Putting off your taxes means racing to the post office at the eleventh hour.
Shaun of the Dead (2004)


Death and Taxes are the two certainties in life. But in Shaun of the Dead, the whole death thing gets a bit questionable as a plague of zombies threatens London. Like taxes, the zombies truly seem like an insurmountable danger. But take heart — and a lesson — from Shaun (Simon Pegg) by breaking the job into manageable tasks: First get a cricket bat (calculator), then get your family (dependants), next defeat a zombie horde (deductibles) and finish with a cold one at your favorite pub. (Note: The last task is directly applicable in both situations, and may be applied liberally throughout tax season.)
Remember: Surviving tax season is all about breaking it down into manageable chunks… and washing it down with beer.
Jumanji (1995)


Even when doing the 1040EZ there's a daunting amount of text your average taxpayer has to parse. But take your time and read everything. Why? Well, Jumanji shows us what happens when you don't read all the rules. It's a simple game, but Judy and Peter Shepherd (Kirsten Dunst and Bradley Pierce) face deadly threats because they start the game before reading this rule: "Do not begin unless you intend to finish. The exciting consequences of the game will vanish only when a player has reached Jumanji and called out its name." They have to face crocodiles, a safari stampede, muderous monkeys and giant mosquitoes. You just have to face the IRS. I honestly don't know which is scarier.
Remember: Read all the rules and you'll escape taxes (mostly) unscathed.
Pirates of the Caribbean: The Curse of the Black Pearl (2003)


Sometimes as the stress gets too high, it's a good idea to step back and take a break. Pick a flick like Pirates of the Caribbean for some good cathartic release. After all, a movie about pirates who need gold and a drop of your blood couldn't possibly remind you of taxes. There's no parallel between the pirates' need to return a piece of gold to escape a curse and your need to pay the government or suffer the interminable wrath of an audit. None at all, just good clean fun.
Remember: Returning the gold equals ending the torment. Until the 2010 sequel…
Bruce Almighty (2003)


So, let's say that none of these other tricks are helping. It's time to pull out the big guns as demonstrated in Bruce Almighty. After complaining to God (Morgan Friedman) that he's doing a poor job of managing the world, Bruce Nolan (Jim Carrey) is given the chance to do the job himself. How does he do? He increases his girlfriend's sex drive, makes his favorite team win the Stanley cup and gets a new car — all of which look good on paper until he realizes how many other things he's screwing up. Once he starts trying to do the job right, he's overwhelmed by the sheer magnitude of it. Bruce manages it all by turning the job back over to God.
Remember: Hire a tax professional and spend the season catching up on all these tax-friendly fantasy flicks.
I won't even ask if you've done your taxes yet. But I am curious to know what fantasy movies demonstrate the tricks you use to survive the tax season.
Mary Robinette Kowal is the winner of the 2008 John W. Campbell Award for Best New Writer and a professional puppeteer. Her first novel Shades of Milk and Honey is being published by Tor in 2010.
Read More