Man's Favorite Sport? In Horror Movies, It's Hunting Humans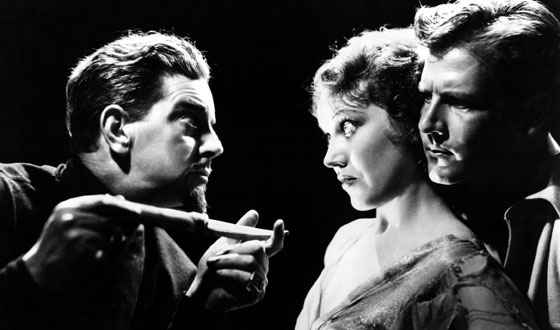 Long before slasher and serial killer movies captured the imaginations (and wallets) of horror fans, a surprising number of fright flicks exploited the premise of humans as prey. Typically modeled after 1932's The Most Dangerous Game , these movies pivot on the uncomfortable tension between identifying with the hunted — and enjoying the hunt. Here are some of the best, and a couple of the worst, examples of the form…
The Most Dangerous Game (1932): The granddaddy of human-hunt movies, and the first cinematic version of Richard Connell's Collier's Weekly story of 1924, this chestnut features Leslie Banks as an effete nutjob who stalks imported bipeds Joel McCrea and Fay Wray on a private island. Directors Irving Pichel and Ernest B. Schoedsack (of the original King Kong) mix black humor, bawdiness (Wray oozes sexuality), and a sense of dread in perfect pre-code fashion. Little wonder this movie's endured.
A Game of Death (1945): This Most Dangerous Game remake — there were many, including a seven-minute version — makes the murderous doc a Nazi, but it's hardly the only timely reconfiguration; the 1961 cheapo Bloodlust! showcased a gaggle of teens (including a shockingly young Robert Reed) as prey while 1994's Surviving the Game pitted a homeless Ice-T (recruited by the CIA, no less) against trigger-happy millionaires.
The Beast Must Die (1974) and The Twilight People (1973): These two obscure horror flicks really twist Connell's premise, suggesting that it was pretty past its pull date by the mid-'70s. In Beast, the human prey also happens to be a werewolf (!), while the Filipino head-scratcher Twilight mashes up The Most Dangerous Game with The Island of Dr. Moreau to little purpose; Pam Grier makes an early appearance as a panther woman, but it doesn't help.
The Woman Hunt (1973): Another Philippines-set sleaze-fest starring faded heartthrobs John Ashley and Pat Woodell (of Petticoat Junction mini-fame), The Woman Hunt delivers exactly what it's title promises. The locale is beautifully shot, but you know a movie's in trouble when Sid Haig as a chortling kidnapper-rapist is its most endearing asset.Think Rob Zombie ever caught this one?
Savages (1975): Andy Griffith plays against type as an arrogant, man-stalking lawyer (aren't they all?) gunning for his hunting guide (Sam Bottoms) in this deft made-for-TV thriller, faithfully adapted from a novel by William Castle's screenwriter of choice , Robb White. The movie achieves a realism rare for the genre, forcing us to ponder how we'd behave under similar circumstances. Worth seeking out.
Targets (1968): Peter Bogdanovich's breakout movie and Boris Karloff's swan song, this unsettling, elegiac fictionalization of a Texas university shooting spree by student Charles Whitman relocates the atrocity to an L.A. drive-in movie theater and draws in a disillusioned fright-film star (Karloff) as its hero. It hurts to admit it, but Targets makes a convincing case for horror movies having run their course…. The 1975 TV film The Deadly Tower took a more documentary approach to the story, but Kurt Russell's nuanced performance as Whitman is memorable.
The Naked Prey (1966): This brilliantly conceived effort by actor-director Cornel Wilde features a he-man-hunter protagonist who's both victim and victimizer. Starkers and defenseless, the Man (the only credit Wilde gives his character) outruns African tribesmen pissed off by his culturally insensitive safari, enduring graphically violent yet thought-provoking set pieces as he goes. With its murky delineation between good and evil, this makes an ideal philosophical bookend to the pointedly Manichean Most Dangerous Game.
To see the full schedule of The Beast Must Die on AMC, click here.
Read More