Is That You? Nicole Kidman and Gwyneth Paltrow Aren't the Only Stars Willing to Go Ugly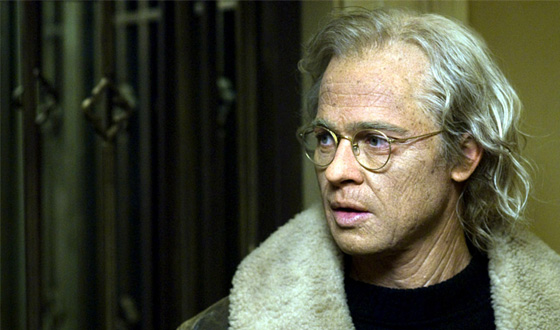 Movie fans love to worship the industry's gorgeous screen gods, but they — and the Academy — also eat it up when those same famous mugs are placed in the capable hands of an expert special effects makeup artist and knocked off their good-looking pedestals. Many of the industry's the most gorgeous have chosen to prove their lack of vanity by uglying it up for roles. Thin? Wear a fat suit. Young? Try age makeup. A frequent dentist-goer? Open wide for your rotten-tooth dentures, please. Here's a list of the most notable actors to go from beauty to beast — even if it was just for a role.
Nicole Kidman
Though her normal M.O. is to slink around in sexy dresses as a porcelain-skinned, Aussie-accented love interest, in The Hours Kidman realized her ability to represent the suffocated and miserable as sad (and homely) literary genius Virginia Woolf. This, thanks to one single change: That unflattering, oversized Nose. Kidman's reward for hiding the button nose with which she's naturally blessed? A Best Actress Academy Award, the only Oscar she's ever received.
Tom Cruise
Typically too pretty a face to hide, a prosthetic nose and belly helped the square-jawed Cruise become overweight, over-the-hill film producer Les Grossman in Tropic Thunder. Hair in all the wrong places and a little extra nose added life to this obnoxious rap-listening mogul. It wasn't the first time Cruise dabbled in the prosthetic arts: In Vanilla Sky, Cruise sported special effects makeup to create car-crash induced disfigurement, and his transformation for Interview With the Vampire proved it's amazing what fangs can do.
Johnny Depp
Despite his winning good looks in magazines and on the red carpet, Depp's career has been defined, in part at least, by the weirdo roles he's always chosen. In Edward Scissorhands, scar makeup, black lipstick applied geisha-style, and copious hair gel (be it or be it not applied to a wig) made him a ghastly, lonely freak for the title role. Depp clearly enjoyed his time in the makeup trailer: In Pirates of the Caribbean, kohl, beard dreadlocks, and hair beads transformed him into the paradoxically effeminate badass Jack Sparrow.
Jeff Goldblum
This actor may not have the longest uglification resume, but he gets honorable mention for a role that's perhaps the most terrifying of them all. "Molecular decimation," "human teleportation" — none of scientist Seth Brundle's nerdy explanations made Goldblum's transformation in The Fly OK. Skin pimpled and slimed over, fingernails and jaws fell off, and it was all as horrifying to the character as it was to the viewer. Knowing that it was all for show didn't make it any less horrifying.
Charlize Theron
For a portrayal the Academy deemed an award-winning transformation, the normally angelic Theron donned crooked yellow dentures to play an empathy-inspiring serial killer in Monster . They practically had to dip the beauty in effects makeup to render her glowing, taut, poreless face dull, spotty and bejowled, and that's after the lanky actress gained 30 pounds for the role. They also thinned her hair and bleached her eyebrows, completing Theron's transformation into a woman who was a nightmare in more ways than one.
Brad Pitt
Time has been good to this eternal heartthrob and even with disarmingly convincing age makeup, Pitt managed to successfully tug at heartstrings as the title character in The Curious Case of Benjamin Button. Yes, worry lines and crow's feet on 7-year-old Bennie were creepy, but on the 45-year-old Pitt they're even more disarming. Even less attractive were his creepy catlike corneas in Interview with the Vampire — not to mention his fluffy vampire hair and overgrown, womanly nails.
Rebecca Romijn
Like Goldblum before her, Romijn's new look isn't exactly a career transformer. Nevertheless, the statuesque, All-American blonde deserves mention as the one example in which heavy makeup served to make an actor more, rather than less, naked, in her role as the shape-shifting and dark, yet highly principled blue mutant Mystique in X-Men. Important lesson for actors who would follow her lead: Body paint as clothing is best left to the supermodels.
Cate Blanchett
They finally got this glamour babe out of her trademark bright red lipstick to portray a normally-aging Daisy in The Curious Case of Benjamin Button. Sagging skin, wrinkles and geriatric glasses can't really touch perfect bone structure, can they? Blanchett is a perfect example of just how evil makeup can be when placed in the wrong hands.
Gwyneth Paltrow
The lithe looker pretty much disappeared in the fat suit created for her role as Rosemary in the don't-pick-on-fat-people movie Shallow Hal . Apparently, all the latex weighed 200 pounds — no small feat to lug around when the actress inside disappears when viewed from the side. Paltrow also had to wear voluminous garb over the suit, or "fat clothes," as she referred to them in a televised interview in 2001. They'd probably prefer she refer to them as "big boned."
Read More