Horror From Your iPhone… It's a Good Thing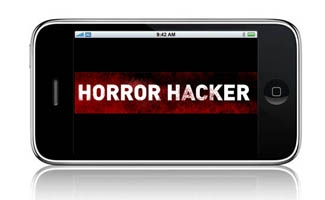 Life is full of bad horror… you have news feeds for that.
Your guide to good horror is no farther away than your iPhone and iPod Touch: AMC has recently launched an exclusive, free app that will hook you up with all the goodies our Horror Hacker site has to offer like our in-the-know blog columns crammed with unique insights into the world of serial killers, classic monsters, demonic possession and angelic-looking bad seeds. It will also ensure that you'll never miss another scary movie on AMC, thanks to your now-mobile broadcast schedule. What's on this week's Fear Friday? Well, let me check my iPhone…
And there's more: You'll also get AMC's SciFi Scanner and Future of Classic movie blogs, plus exclusive video for AMC originals Breaking Bad, Mad Men and AMC News. In other words, everything but Freddy Krueger crawling out of your screen. (You don't really want that, do you? Because it always ends in a scream.)
Download your free copy today.
Click here to view the app at the iTunes store.
Read More