Hop in for Serious Talk! Road Movies Have Moved Past Comedy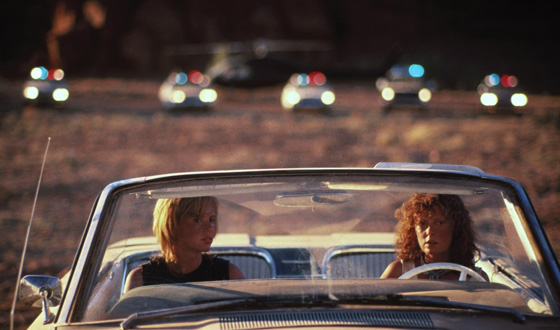 You'd think that people spend enough time in their cars that they wouldn't need to see the experience replicated on the big screen. But no, cinema's been involved in a love affair with driving for as long as there have been automobiles and open roads. In some of the best driving flicks, it's the car that makes the movie. In many more, it's the bizarro (or pulse-raising, or poignant) conversations that take place inside. Remember the last road trip you took, the one that had you cursing off your motormouthed, space-violating companion forever? You had it easy — compared to some of the chattier entries on the list of famous driving duos that follows, at least.

Pulp Fiction (2004)

When riding with Jules (Samuel L. Jackson) and Vincent (John Travolta), it's practically a necessity that you pack heat. Quentin Tarantino's smooth-talking assassins first appear in the middle of a hilarious rolling dialogue, an iconic scene that introduced fans to the "royale with cheese." While Jules drives, Vincent clues him in on the "little differences" that make Europe so great — from the pleasures of hash bars to the popularity of mayo as a condiment on fries.
Collateral (2004)
All that L.A. cabbie Max (Jamie Foxx) wants is to start his own limo business one day. But his dreams are put on hold when his latest fare, Vincent (Tom Cruise), turns out to be a ruthless assassin. Michael Mann's taut thriller gives Cruise enough room to be deliciously evil as Vincent forces Max to shuttle him from one hit to the next. It's only a matter of miles before killer and cabbie collide, with Vincent accusing Max of lacking initiative and Max countering that Vincent is nothing more than a homicidal maniac. Think car-pooling is a pain? You have no idea.
Fear and Loathing in Las Vegas (1998)
This adaptation of Hunter S. Thompson's groundbreaking novel kicks off with journalist Raoul Duke (Johnny Depp) riding shotgun while his attorney, Dr. Gonzo (Benicio del Toro), pilots their red convertible through the California desert. Fueled by a toxic mix of psychotropic drugs and paranoia, they traverse an empty landscape scaring the daylights out of passersby. The journey ends in Las Vegas, where the duo embarks on ever weirder and wilder adventures before ending up back in that trusty Chevy, exhausted, at trip's end.
Night on Earth (1991)
Jim Jarmusch's comedic anthology tracks five cab rides in five world cities on one crazy night. For a ride to remember, head to Rome and flag down the taxi driven by zany Roberto Benigni. The Italian funny man picks up a priest in the wee hours of the morning and proceeds to confess his sins in a lurid, all-out comedic monologue. It's a wild list of sexual misdeeds, involving his brother's wife, a pumpkin and a sheep named Lola that's literally without parallel.
Thelma & Louise (1991)
Thelma (Geena Davis) and Louise (Susan Sarandon) are feeling hemmed in by life, so they set out in Louise's 1966 Thunderbird for a few days of much-needed R & R. But their vacation turns sour following a confrontation and unexpected murder outside a cowboy bar, and the dynamic duo flee for Mexico. Ridley Scott's tale of female empowerment rests squarely on the charismatic shoulders of the pair of outlaws in the front seat. Just be sure to get out of the way when you see that pale green T-Bird careening down the road.
Driving Miss Daisy (1989)
Best clear your calendar if you want to sign up for this ride. Bruce Beresford's Best Picture winner chronicles the long relationship between Daisy, an elderly Jewish woman (Jessica Tandy), and Hoke, her African-American chauffeur (Morgan Freeman). Ensconced in a succession of comfy Cadillacs, Daisy and Hoke roll through a quarter century of American history, from 1948 to 1973, making subtle observations on friendship and society along the way. Most often, it's what's left unsaid that punches your heart the most.

Rain Man (1988)

In Barry Levinson's Best Picture winner, slick car salesman Charlie (Tom Cruise) inherits jack from his dead father, aside from some rose bushes and a 1949 Buick Roadmaster convertible. In an effort to claim what's rightfully his, he "borrows" his autistic brother Raymond (Dustin Hoffman) from a mental institution and hits the road. With a fast-talking jerk behind the wheel and a savant riding shotgun, you'll be hard pressed to get a word in edgewise from the backseat.
The Sugarland Express (1974)
You'll have to share the backseat if you want to evade the law in Steven Spielberg's first theatrical movie, in which a young wife (Goldie Hawn) bullies her husband into breaking out of a Texas prison, at which point the couple hijacks a police cruiser and holds a state trooper hostage as their driver. The outlaws taunt their unwilling traveling companion mercilessly, but the trio also forms an unlikely, uneasy bond. You may find yourself ducking for cover when the final showdown arrives.
Harry and Tonto (1974)
What's a feisty 70-something widower to do after getting evicted from his New York City apartment? If you're Harry Coombes (Art Carney in an Oscar-winning performance), you set your sights on sunnier days in California. Harry knows no road trip is complete without someone to talk to and brings along his aging cat, Tonto. Harry visits with his share of human characters on his journey, but it is his feline friend to whom he bares his soul – inspiring crazy cat lady crushes nation-wide in the process.
Harold and Maude (1971)

Harold (Bud Cort) is 19 and obsessed with death. Maude (Ruth Gordon) is approaching 80 and lives every day like it's her last. How does this spirited septuagenarian capture Harold's morbid affections? Perhaps he's impressed by her maniacal driving skills. But Maude is always in control, whether she's piloting Harold's hearse, ferrying a stolen tree in the back of a pickup truck, or commandeering a policeman's motorcycle. Who says getting older means you have to slow down?
Read More