Uncategorized
Flashback Five – The Moviegoer's Guide to Getting Rich Quick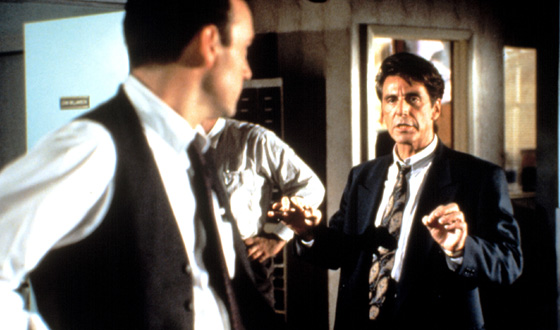 Once in awhile, economic and cosmic forces collide in such a way that suddenly the whole world, or so it seem, is suddenly looking to make a little more cash. (Sound familiar?) And actually, if you watch the right movies, it suddenly begins to seem as if everyone everywhere has been trying to make a little more cash at every single moment throughout the history of the world. Sure, it's an easy fallback for a screenwriter looking for a kooky plot twist, but the allure of the get-rich-quick scheme is hardly just another movie cliche. Here are some of Flashback Five's favorite movies revolving around ways to hit the big time, some legal, some not — and a few that go in very different directions than what you'd expect. Just don't go getting any ideas.
1. Primer (2004)
This brain-bending low-budget scifi tale begins as four engineers, friends and co-workers, toil in the garage to get their own projects up and running to make a little money on the side. Two of them discover a risky, untested form of time travel that lets them live a day over again, which makes sports betting and playing the market child's play. One of the movie's ironies is how near-infinite power springs from a simple desire for a little more take-home pay — an enticing prospect, to say the least. As a bonus, first-time director Shane Carruth, who also starred, made the acclaimed film for just $7,000. If that doesn't inspire you, nothing will.
2. Glengarry Glen Ross (1992)
One of the best-ever portraits of killer capitalism, Glengarry Glen Ross takes place at a low-rent real estate office where property of questionable worth is sold by equally questionable salesmen. With their job security on the line, a group of salesmen decide to take matters into their own hands… and steal the high-quality leads their employer has locked away. It's a grim vision of a system where you have to cheat to even compete, and writer David Mamet's scabrous script ensures things will get far, far worse. In need of a reminder as to why it's best to play by the rules? Look no further.
3. Strange Brew (1983)
Canadian slackers Bob (Rick Moranis) and Doug (Dave Thomas) McKenzie, inspired by the urban legend about the man who found a mouse in his beer bottle and was compensated with free beer, shove a mouse into an empty bottle and head for the Elsinore brewing company in search of their reward. It's a modest scam for modest stakes, and it kicks off a weird spin on, yes, Hamlet , as the two become embroiled in plotting, conspiracy, and danger when all they really wanted was a free case of beer. Thank god for comic relief, eh?
4. The King of Marvin Gardens (1973)
This lesser-known '70s drama features one of Jack Nicholson's best overlooked performances, as a radio host whose ne'er-do-well brother (Bruce Dern) ropes him into a real estate deal around a Hawaiian resort project that'll make them both rich. It's a deal that sounds too good to be true, and, of course, it is. (Remind anyone of the subprime mortgage kerfuffle?) The real pleasure of the movie is in watching Nicholson and Dern play brothers united and divided by Dern's extravagant promises that a fortune's just around the corner at all times.
5. It's a Mad, Mad, Mad, Mad World (1963)
One of the first all-star comedies (and one of the few all-star comedies that's actually funny) It's a Mad, Mad, Mad, Mad World begins as a dying man (Jimmy Durante) tells a group of strangers the location of a fortune before his demise, which sets the motley group off on a cross-country chase to get to the goods before the other parties do. Chasing the lure of money isn't always funny — but with a cast including Milton Berle, Buddy Hackett, Mickey Rooney and Ethel Merman, It's a Mad, Mad, Mad, Mad World is a frantic chase for cash that milks its comedy dream team for all they're worth.
Honorable Mentions:
1. Be Kind, Rewind (2008) has its remakes-of-famous-movies scheme spring from the need to make a bunch of cash fast to save a failing video store.
2. Boiler Room (2000) depicts the live-fast, sell-hard world of shady stock sales, and has more than a few nods to Glengarry Glen Ross.
3. The Hudsucker Proxy (1994) sees know-nothing Norville Barnes (Tim Robbins) elevated to the boar of a major company as a stooge — but his idea for a new product "for kids" is a surprise success that sees the patsy become a powerhouse of profit.
4. The Blues Brothers (1980) swirls with music, mayhem and madness, and all because Jake (Jon Belushi) and Elwood (Dan Aykroyd) Blues want to get together the money that'll save the orphanage where they grew up.
5. Paper Moon (1973) features Ryan and Tatum O'Neal as a fractured family unit of Depression-era con artists whose moneymaking schemes fail to provide but somehow succeed in bringing them together.
Read More