Fore! Ten Big Screen Stars Who Also Excel on the Fairway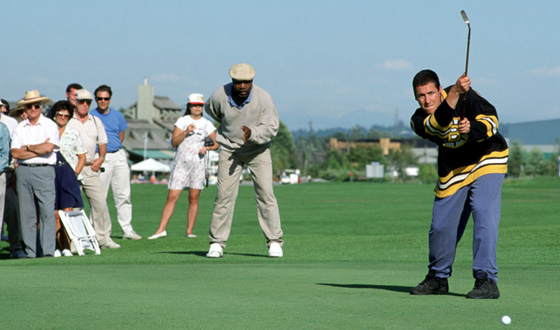 Why are so many movie stars such avid golfers? Perhaps it's the relaxing pace, or the opportunity for wheeling and dealing on the course. Or maybe, as Bob Hope once said, golf is their real profession, and entertainment is "just a sideline." Whatever the reason, golf is enjoying a resurgence among celebrities. Celebrities like Justin Timberlake and Jessica Alba are regularly spotted on the green, and — surprise! — some of them are actually good. Here's a look at a few big screen stars who are also superstars on the fairway.
Jessica Alba

No, she's not preparing for a movie — Jessica Alba is seriously into golf. Alba counts golf as one of her hobbies, and often accompanies
husband Cash Warren to celebrity tournaments. And she's pretty good too — she once told Parade magazine that she can drive a ball 200 yards. Jessica has even gone so far as to refer to
herself as a "golf dork." Nope, Jessica, that would be the oglers following
you around the green.
Lucas Black
Though only 26, Black ( Jarhead , Fast and the Furious: Tokyo Drift ) has become one of the top celebrity golfers. (Golf Digest ranked him at No. 2 in 2008, behind former Melrose Place star Jack Wagner, who is routinely cited as the best celebrity in the game.) And he's no dabbler: Black, who played every day on the set of All the Pretty Horses , once told Men's Fitness,
"If I had to pick a dream job, I'd be on the PGA tour." With his 2.3 handicap, Black may someday get his wish.
Samuel L. Jackson
Few actors can pull off a golf sweater quite like Jackson. (As the man once said, the course is the only place where he can arrive "dressed as a pimp and fit in perfectly.") Jackson is such a fan
of the sport that he actually carried his lightsaber in his golf bag while
rehearsing for Star Wars Episode II . He also respects the history of the game, having narrated the recent documentary Uneven Fairways, which chronicled the legacy of African-American golfers.
Tea Leoni
Leoni
has been playing since '97, and is regularly referenced as one of the
best celebrity players on the scene. She's appeared on the cover of Golf for Women magazine, and once topped Golf Digest's
female rankings. Leoni has been known to shoot at least a 12, and once
beat Celine Dion (another avid golfer) in the rankings. (Though she was
topped by Anne Murray. What is it with Canadian songbirds and golf?)
Not to mention Leoni once claimed to own fourteen pairs of golf shoes.
Beat that, Tiger.
Bill Murray
Few
celebrity golfers have so fully incorporated the sport into their lives as Bill Murray. An avid golfer for years, he starred in the best golf
movie ever made (Caddyshack), and somehow convinced Comedy Central to give him and his brothers a short-lived TV series about their golfing exploits (The Sweet Spot).
Then there was that bizarre incident a couple years back when Murray
was busted by Stockholm police for driving a golf cart around the city
in the wee hours of the morning. Though not the top celebrity golfer
(he had a 7.2 handicap in 2008), he's certainly the most memorable.
Jack Nicholson
A
regular on the links for over twenty years, Nicholson's passion for
putt is second only to his devotion to the Lakers. (As far as we know,
he doesn't schedule movie shoots around tee time.) A grand marshal of
the Police-Celebrity Golf Tournament, and a regular at charity events,
Jack is a favorite among caddies for his generous tips. Just don't cut
him off in traffic when he's got his clubs in the trunk.
Adam Sandler
Happy Gilmore wasn't just a crazy character Sandler played — the man truly loves to golf. In fact, the funnyman is routinely seen on the green with his family at celebrity golf tournaments like the Sony Pro-Am in Hawaii. (His handicap is said to be around 16.) Sandler's Gilmore also gave golfers a much-quoted mantra to say when their pesky ball won't go in the hole: "Why don't you just go home? Are you too good for your home?!"
Dennis Quaid
Quaid topped Golf Digest's ranking of the top celebrity players a few years back, beating out Dharma and Greg's
Thomas Gibson with an impressive 1.1. handicap. (Though he's yet to
catch up to scratch players Jack Wagner and Kenny G.) Quaid has hosted celebrity charity golf weekends for years, and is consistently cited by golf pros as one of the best
players in Hollywood. Plus, he's just so darn likable!

Catherine Zeta-Jones
Golfers usually have trouble concentrating when Zeta-Jones hits the course. (She can always be
spotted at the Michael Douglas & Friends charity tournaments.) The
actress has become a big fan of the game, and credits it for helping
her marriage. She told Contactmusic last year that Douglas, "listens to
me when I give him tips — but if he's having a bad day he pretty much
tells me to shut up." She also enjoys playing with girlfriends, telling
People in '07 that when they aren't playing well, they break for lunch and a glass of wine.
Justin Timberlake
Though his busy schedule rarely allows him to play 18 holes, the popular musician/actor/viral-video star recently told Golf Digest
that his handicap is "about a 6." (Let's see fellow former *NSync
member Joey Fatone out-shoot that.) He recently hosted a PGA Tour
charity event, and competes in the AT&T Pebble Beach Pro-Am every
year. Plus, he gets bonus points for getting Jessica Biel on the links.
Who's your favorite celebrity golfer? Click here to vote.
Read More