Daily Scan for 04.08.09 – Ramis Talks Ghostbusters 3, Critics Talk Up Trek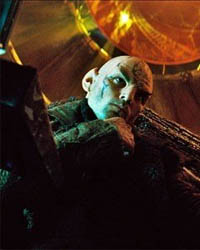 • The editor of the Oxford English Dictionary gives us nine words we didn't know came from science fiction. Although the list is more about etymological origins than actual origins (Virus, Worm, etc.), it's still pretty great.
• The early reviews of J.J. Abrams' Star Trek are in, and almost all of the news is really good.
• Harold Ramis talks Ghostbusters 3, saying it's still a year away from production, has nothing to do with the Ghostbusters in Hell concept of the nineties and will have all four original Ghostbusters as well as a new, younger cast.
• Michael Bay decides to introduce Amcee, the only female Autobot, in the next movie. Why? Just to kill her, of course. Misogynism at its most morbidly perverse.
• io9 writes about this fantastic anthology of Nazi-era German science fiction stories. I'm a Berliner, so this one is going right in my Amazon shopping cart.
• 3D renderings of the new Enterprise get modeled over and over and over again.
• And speaking of new, how about some old? For the man who has everything short of taste and an internal tackiness radar: A mural that will turn any room into the bridge of the original NCC-1701.
Read More