Uncategorized
Flashback Five – Cuba in the Movies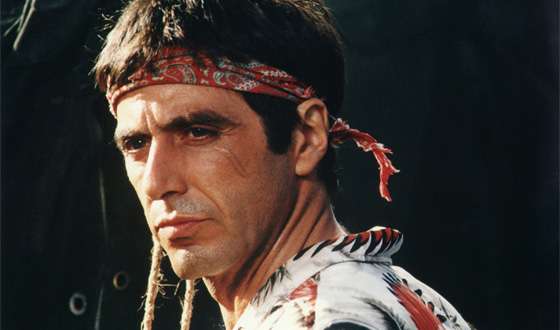 This week's Flashback Five is inspired by a controversial story in the news that, in some ways, has been over 50 years in the making: This week, President Obama eased restrictions on financial transactions and visitation from American citizens to their Cuban relatives. (Regular folks still can't travel there, so don't get any ideas.) The move signals the first thawing of the Cold War-era embargoes and blockades that have sealed Cuba off from the world for decades. With that in mind, this week's Flashback Five looks at films that have addressed the world's image of Cuba by bringing fictionalized versions to the big screen while the real country remains hidden behind red tape.
1. Che: Part One (2007)
The long march that culminated in Havana began years ago, and Steven Soderbergh's brilliant biographical epic focuses its first half on Che Guevara's role in Fidel Castro's rebel army. With Benicio Del Toro
as Che, Soderbergh crafts a gripping tale of guerilla warfare and
revolutionary politics, including a rewarding portrayal of Fidel
Castro's transformation from pariah to politician thanks to Demián Bichir's great performance. It's an excellent historical overview for those who like to argue the issue's ethical points, and gripping cinema to boot.
2. Before Night Falls (2000)
It may be best known as painter Julian Schnabel's directorial debut, but Before Night Falls, set in the aftermath of the Cuban revolution, shows what happened as a dream became a nightmare. Starring Javier Bardem as poet Reinaldo Arenas, Before Night Falls
details Arenas' struggles against the strictly-controlled and fiercely
undemocratic Cuba, including his imprisonment for his sexuality and
writing. It's a fierce rebuke to the Left-leaning fantasy of Cuba as
forbidden paradise, and an emotional argument against Communist dictatorships.
3. Scarface (1983)
Of course, if the real Cuba was grim, imagine how audiences felt after
the snarling, scary cardboard cut-out Cuban outcast Tony Montana (Al
Pacino) stalked the screen in Brian De Palma's Scarface.
Re-imagining Howard Hawks' classic gangster as a Cuban thug sent to
America during the 1980 Mariel boatlift, which saw some Cuban criminals
and prisoners (including Arenas) sent to America alongside ordinary
Cuban citizens, the re-vamp turned Scarface into a savage variation on the classic immigrant saga — and set back the public image of the average Cuban immeasurably. Watch either on its merits as a fantastic drug-fuelled shoot-em-up, or with your measured skepticism firmly in place.
4. The Godfather Part II (1974)
As Michael Corleone (Al Pacino) tours Havana and Cuba in 1958 in an effort to diversify his family's holdings, he glimpses the revolution in action — and quickly flees the country as the Batista regime falls to Castro's rebels. As gangster capitalism meets gangster politics, it's a brilliant use of a fictional character in a real historical moment, and the fact that the fall of Cuba echoes the collapse of the Corleones is an excellent reminder that capitalism brings its own problems, even right here on American soil.
5. Guys and Dolls (1955)
Based on Damon Runyon's classic tales of New York nightlife, Guys and Dolls sees gambler Sky Masterson (Marlon Brando) take Salvation Army volunteer Sarah Brown (Jean Simmons) on a getaway to Cuba. A backlot-shot musical fantasy,
it helped serve as the last hurrah on film for the fun-in-the-sun
getaway Cuba became before the revolution changed everything. While it's in absolutely no way reflective of the current state of affairs, it's sure to provoke thought about America's role in Cuba's demise, regardless of which side you take.
Honorable Mentions:
1. Dirty Dancing: Havana Nights (2004)
also uses 1958's season of change as a backdrop, which surely
confused teens who probably can't quite remember why Cuba's a forbidden
zone.
2. Bad Boys II (2003)
may have predicted the possible future normalization of our
relationship with Cuba by making it just another locale for Michael Bay to destroy.
3. The Mambo Kings (1992) paid tribute to Cuba's musical heritage long before the Buena Vista Social Club's true story became a pop culture phenomenon.
4. Havana (1990) may have been a re-vamp of Casablanca, but it also unfolds on the eve of the revolution in 1958, another retro-romantic vision of life under coup-loving dictator Fulgencio Batista.
5. Red Dawn
(1984) captured Reagan-era thoughts about Cuba with a Cuban army invading America led by a
rough-but-righteous Cuban commander played, hilariously, by Ron "Super-Fly" O'Neal.
Read More