Classic Ten – The Best Prison Break Movies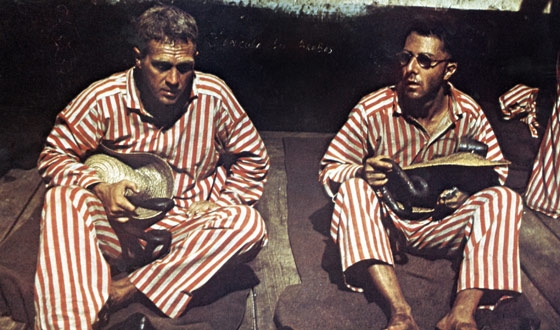 In times like these, it's easy to understand why people's thoughts turn to escape — escape from financial woes, escape from war, even escape from the fear of Swine Flu. With all these worries, it's only natural that you'd find something heartening in movies about escapes from situations much more dire than your own. Sure, the electric bill went up again, but hey, at least you're not in jail. Herewith, the top ten prison break movies.
10. The Count of Monte Cristo (2002)
The power of this classic Alexander Dumas tale hasn't diminished in the two centuries since it was written, and Jim Caviezel, Guy Pearce and Richard Harris all deliver excellent performances. The movie's as entertaining as an Errol Flynn swashbuckler, and who doesn't love a good sword fight? Yet in the end, The Count of Monte Cristo is just a flashy action adventure: Worthy of inclusion… but only in the bottom slot.
9. Con Air (1997)
Snakes on a plane! Well, close. Despite its preposterous premise and general lack of coherence, Con Air is hilarious and pretty suspenseful. The violence is relentless; the dialogue is clever; and as usual, Nicolas Cage, John Malkovich, Ving Rhames and Steve Buscemi work harder and smarter than they have to, holding together a film that's not much more than the sum of its parts: Good guys, bad guys, and stuff blowing up. Consider this one a guilty pleasure.
8. Escape from Alcatraz (1979)
Here's Clint Eastwood inhabiting the kind of stoic role for which he was born to play: Frank Morris, one of the three prisoners believed to have succeeded in escaping "The Rock." The New York Times acknowledged that the film's value comes not from the strength of its story or characters but from its craftsmanship. Escape from Alcatraz is one heck of a taut thriller, even if the planning of the escape is more satisfying than the act itself.
7. The Great Escape (1963)
Based on a true story, sure but The Great Escape feels more like a ripping yarn than a fact-based chronicle. Steve McQueen, James Garner, and Richard Attenborough lead the strong cast as Allied soldiers set on escaping a German POW camp via an elaborate series of tunnels. An abundance of wit, great scenery, and that awesome motorcycle chase compensate for any weaknesses, just not enough to lift it higher on this list than number seven. Anyway, McQueen did better. See number three.
6. Stalag 17 (1953)
Billy Wilder's World War II classic pits a group of American pilots against their Nazi captors (and a traitor in their midst). There is a good deal of comedy here (Stalag 17 inspired the sitcom Hogan's Heroes), and some grim realism, too. What there isn't: The implausible heroics common to war pics of the period. Here, pragmatism and intelligence inspire more than flag-waving. William Holden, in the lead role as Sefton, won the Academy Award for best actor. He deserved it.
5. Escape from New York (1981)
NYC has been portrayed onscreen as everything from an impossibly hip fantasy land to a lawless hellhole, so why not a maximum security prison. (Presumably, the real estate market has really bottomed out.) Kurt Russell stars as the coolly resourceful "Snake" Plissken, who must rescue the President of the United States after Air Force One goes down in the very, very bad neighborhood that Manhattan has become. This John Carpenter cult favorite is gripping and cathartic, earning it the middle slot.
4. Cool Hand Luke 1967
The late, great Paul Newman brilliantly portrays the stubbornly hard-to-tame Lucas Jackson, adored as a rebellious hero by his fellow inmates, then reviled as a liar and a fake. The character has been compared to Sisyphus and to Jesus Christ. Luke survives plenty of beatings, numerous failed escape attempts and the ingestion of an awful lot of hardboiled eggs. Ironically, it's his indomitable spirit that ends up destroying him. Or perhaps it's his failure to communicate. He still ranks high with us.
3. Papillon (1973)
Papillon is an escapist film about an escape. Henri Charriere's memoir of his incarceration in and flight from Devil's Island, a French penal colony, provided Steve McQueen with arguably his finest role, although the actor often seems about as French as a McDonald's fry. Still, it's a convincing, moving depiction of the horrors of prison life — bug-munching, solitary confinement and oof, that guillotine sequence. The only reasons this isn't rated higher is it's a bit overstuffed and overlong, so Papillon takes the bronze.
2. The Shawshank Redemption (1994)
Based on a Stephen King novella, The Shawshank Redemption has the distinction of generating boatloads of sympathy for its talented leads: Tim Robbins as the unjustly imprisoned Andy Dusfresne, and Morgan Freeman as the wily "Red" Redding. It's not a flashy flick, but it's an uncommonly clever one. We root for Andy's ultimate triumph not only because he deserves it, but because he earns it. The film was nominated for seven Academy Awards but unfortunately had Forrest Gump as its competition.
1. Midnight Express (1978)
Adapted by a young Oliver Stone from Billy Hayes' autobiography, Midnight Express is a harrowing tale of an American student thrown into a Turkish prison for drug smuggling. The traumatic scene of Hayes' visit from his girlfriend has not lost its power to shock and disturb, and Hayes' final escape, while a bit anti-climactic, comes as a great relief both to him and the viewer. The movie has long been something of a punchline, in works ranging from Airplane to The Simpsons, but it's also a cultural touchstone. Brilliantly written, acted and directed, Midnight Express is an all-around classic.
Which prison break movie is your favorite? Vote here.
Read More