The Good, the Bad, and the Black Cowboy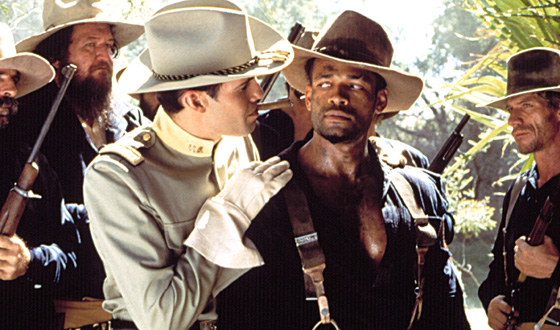 Will Smith's starring turn as a gunslinger in the big-budget flop Wild Wild West may have sat poorly with fans of the genre (and just about everyone else), but the presence of black cowboys on screen is hardly a new or scorn-worthy phenomenon. Way back in 1923, rodeo sensation Bill Pickett became the first black screen cowboy in The Bull-Dogger, and he was just the first in a long line of cowboys of color who galloped through movie history alongside their more mainstream, pale-faced peers.
The genre's first real movie star came in 1937 when Herb Jeffries donned a ten-gallon hat for Harlem on the Prairie,
the first in a series of "Bronze Buckaroo" films targeted toward black
audiences. Complete with a horse named Stardust and a sidekick named
Dusty, the movies played like Bizarro versions of Roy Rogers serials. Still, Jeffries's films were mainly
devised as profitable entertainments – in other words, they rarely tackled racial
themes. (Interesting sidenote: The blue-eyed Jeffries, who identifies as "colored", used makeup to darken his light-colored skin, at his producer's request.)
No, it wasn't until the black cowboy films of Woody Strode that
black westerns brought social commentary into the gun-totin',
spur-janglin' mix. A college football star who played with Jackie
Robinson on the UCLA Bruins, Strode's celebrity led to a number of
supporting roles, but a friendship with John Ford led to a role in one
of the director's most idiosyncratic works: 1960's Sergeant Rutledge .
That part represented the first real mainstream lead for a black cowboy. What's more, the movie's plot, about a black cavalry officer falsely accused of
raping and killing a white woman, dealt provocatively with racism. Alas, though Strode returned to the saddle for The Professionals , The Man Who Shot Liberty Valence , and Once Upon A Time in the West ,
studio interest soon faded. In fact, most
Hollywood Westerns sidestep the question of race entirely, almost pathologically
erasing the presence of blacks in Westward migration.
Mario Van Peebles's Posse stands as another effort to correct
that false history, and to pay tribute to Strode, who plays the film's
wizened narrator. Meanwhile, walk-ons by Pam Grier and Isaac Hayes tip
their hat to the Blaxploitation Westerns that made the scene in the
1970s. It's a noble undertaking. And for those of you who've ever yearned to see Tone Loc as a gravelly-voiced gunslinger, well, here's your chance.
Click here for a full schedule of Posse on AMC.
Read More