Ballistic Babes Author John Zakour Has a Role for Bruce Campbell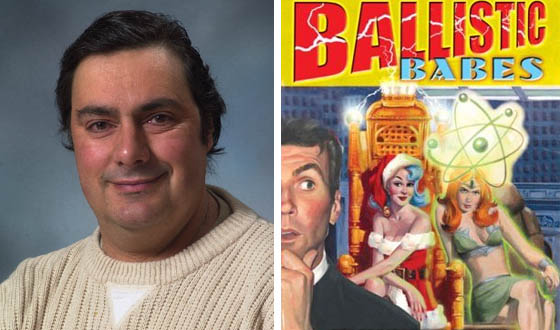 Ballistic Babes Author John Zakour Has a Role for Bruce Campbell" width="560″/>

Novelist John Zakour has spent the past decade penning the adventures of Zach Johnson, the last freelance P.I. on Earth in the year 2057. As Ballistic Babes — a collection of two of his novels — goes on sale this week, Zakour discusses the series' pop culture inspirations and dreams about what actor he would cast as the grizzled detective.
Q: What inspired you to write these pulpy throwback scifi novels?
A: Once I was watching a show on HBO, I don't remember the name of it even, but it was about a detective living in a parallel universe where magic was still existing. I was reading Blade Runner at the same time, and I was also e-mailing back and forth with Douglas Adams, asking him advice about becoming a writer. (He was the only humorous science fiction writer I really enjoyed when I was growing up.) So I wanted to combine the three of those into one. My books are like what you'd get if you combined Hitchhiker's and Blade Runner into a mixer.
Q: Scifi writers have a tendency to want to imbue their fiction with modern day relevance. Your books seem to be more concerned with entertaining.
A: Bubble gum for the brain — that's what I call myself. Yeah there are some issues in my books, like having so many women in power and equal rights for different beings. But these are all minor points. The first point of all my books is to have a fun read and put your mind on hold. I'm not going to be one of these deep science fiction writers — at least not with this. I might try something deeper next year for one of my comic book ideas.
Q: Do you have a story in mind?
A: It's going to be in DC's Zuda Comics in the next few months. I'm calling it Quantum Voyager, about a woman who discovers she can travel back in time, and what she does with this power. It's a much darker thing than what I normally do, but I think a little darkness is good. Now that the country seems more optimistic, I think I can write a little darker.
Q: All of your Zach Johnson books — The Radioactive Redhead, The Frost-Haired Vixen — are titled after these really strong femmes fatale characters. What's the attraction?
A: I like powerful women I guess. My wife's a powerful woman. I grew up watching Bewitched and I Dream of Jeannie. I read an article once when I was like 10: It was in TV Guide, and they were saying it was really bad to show these powerful women on TV who were so much more powerful than the men. They were saying it was going to shape the next generation. Apparently it did shape me. I think it's sort of fitting because women are growing in power in the world as we speak.
Q: Your next book in the series, Sapphire Haired Sirens, comes out in December. What's it about?
A: Zach goes to Atlantis. But it's not really Atlantis — it's Lantis, which is sort of Atlantis, but my take is that when people are kidnapped and taken there, and then return, they say "Oh, I've been at Lantis." So through the centuries the name has become Atlantis. And in my world, of course, Atlantis is all females. Their Queen is murdered and they need somebody who's good with murders, so they bring Zach in.
Q: Between Monsters vs. Aliens and Alien Trespass, there's been a strong resurgence in campy '50s-era scifi stories lately. Why do you suppose that is?
A: I love that type of stuff. I think it was a fun time — the stories required less thinking. We worry so much these days about being politically correct, and the economy and everything. I think it's really nice to let your brain go on hold and watch something that's fun. Brains need to take more time off, so somebody should option my books for a movie!
Q: Who would you cast as Zach?
A: When I started this — I thought of it in the early '90s — I always thought it would be Bruce Campbell. He would just be the perfect Zach. But now he's getting a little old, so I'm not sure. My 16-year-old son thinks it should be Stephen Colbert. I'm hoping it's something we'll have to worry about in the near future.
Read More