Alien Trespass Review – Earnest SciFi From Another Era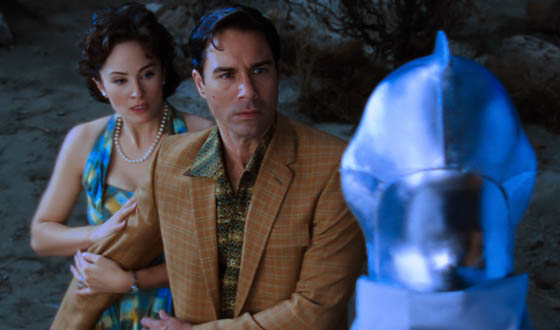 Alien Trespass Review – Earnest SciFi From Another Era" width="560″/>

Alien Trespass is an affectionate, almost reverent homage to the science fiction of the 1950s: Not a lampoon so much as a faithful recreation. Though it can't resist a self-referential nod or two, mostly the movie, directed by X-Files vet R.W. Goodwin, seems to be daring us not to take this stuff seriously. It's funny — at this point, '50s scifi more or less mocks itself — but what's surprising is how well it holds up as a mild horror flick and space invasion adventure. Viewers unfamiliar with the sub-genre may be puzzled, but those who know the clichés should have a blast.
The easiest thing may be to just list the plot elements, and I bet you can figure out how they go together: 1) A sleepy, wholesome small town. 2) A flying saucer carrying a body-snatching alien. 3) A handsome astrophysicist (Eric McCormack) and his sexy wife (Jody Thompson). 4) A local diner where the whole town gathers, and where a beautiful, pink-clad waitress (Jenni Baird) dreams of something more. 5) Two teenagers named Dick and Penny (Andrew Dunbar and Sarah Smyth) who are in love, and their troublemaking pal Cody (Aaron Brooks). 6) A tough, skeptical police officer (Robert Patrick) and his bumbling young underling (Shane Brocklebank). 7) An intergalactic, man-eating, slimy, cyclopean monster called the Ghota.
Goodwin goes to great lengths to emulate the aesthetic of the movies he's aping. In fact, he seems to have cornered the market on awkward, earnestly executed practical effects, probably limiting his audience in the process. The Ghota is a lumbering, unthreatening mass of purple plastic. The alien Urp is a dude in a full-body silver suit and a stuffed crotch — that is, before he "borrows" McCormack's body. Even the starry night sky is an obvious backdrop.
Here's the most interesting thing about the movie: You would think that a filmmaker who takes such pains to create intentionally crappy special effects would be motivated by sarcasm. But the movie barely has a snide bone in its body. The alien invasion plot is meant to work, and by God it sort of does. That the flick also gets laughs out of, say, McCormack's wonderfully deadpan performance as the body-snatched scientist is fascinating because Goodwin doesn't seem to be trying — the laughs emerge organically from the movie's genre ambitions. If you embrace the experiment from the get-go, Alien Trespass delivers on a couple of levels.
If there's a flaw it's that Goodwin's conviction falters at the margins, and in a couple of spots he hedges his bets by giving us a small sardonic wink. The movie opens with a newsreel suggesting that what we're about to see is an actual '50s production that was buried after a legal dispute between the studio and the pipe-smoking star (McCormack). And then the Ghota-hunting climax takes place in a movie theater showing The Blob — one of the major influences here. Neither of these elaborate maneuvers works, however, because both invite us to step outside the movie and view it as a novelty item. The movie would have worked even better had Goodwin held on to his poker face.
Alien Trespass comes a week after Monsters vs. Aliens, which also tries to mimic this sort of '50s-era genre fare, but all the while mocks it with a merciless, rapid-fire barrage of jokes and gags. A couple exceptions aside, what's remarkable about Goodwin's attempt is how thoroughly it seems to be scrubbed of self-awareness. However he managed it, the director ended up with a valuable insight: In the hands of a talented filmmaker, doe-eyed sincerity can readily substitute for a big budget and eye-popping CGI.
Want to watch some of Goodwin's source material? Click here to check out AMC's B-movies site, where you can see scifi classics for free in full-screen HD.
Read More