AFI Dallas – Gigantic, Prom Night in Mississippi and Crude Win Top Prizes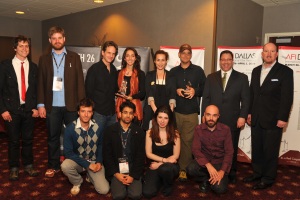 As AFI Dallas drew to a close on Thursday night, some moviemakers got to enjoy not just an audience's warm reaction but also some cold, hard cash. The Target Filmmaker Award for Best Narrative Feature — which comes with $25,000 prize — went to Matt Aselton's Gigantic, his film starring Paul Dano, Zooey Deschanel and John Goodman.
The Target Filmmaker Award for Best Documentary Feature, also with a $25,000 prize, went to Prom Night in Mississippi, a feature-length look at a small Southern town which held its first-ever
integrated prom (with actor Morgan
Freeman in tow). The Current Energy Award, with a $10,000 cash prize, went to
Joe Berlinger's Crude, an examination of Chevron's oil drilling in Ecuador. Critic Elvis Mitchell and actress Heather Matarazzo ( Welcome to the Dollhouse ) hosted the awards ceremony.
Audience Awards for fiction and documentary filmmaking were also announced; the Audience Award for Best Narrative went to Anthony Fabian's Skin, a coming-of-age tale set during the era of apartheid in South Africa, while the Audience Award for Best Documentary went to Rock Prophecies, a look at the life and times of rock photographer Robert Knight.
Finally, the MPS Studios Texas Filmmaker Award went to David Lowery, for his haunting, fierce and yet achingly naturalistic St. Nick, which follows two young siblings on the run in the wilds and suburbs of Texas; Lowery (who spoke with AMCtv.com about St. Nick earlier this week) receives a $20,000 cash prize along with the award. For more information about award-winners at AFI Dallas — or to better bookmark now to get a jump on planning to attend next year — just go to www.AFIDallas.com.
Read More