Uncategorized
Flashback Five – Wrestlers-Turned-Actors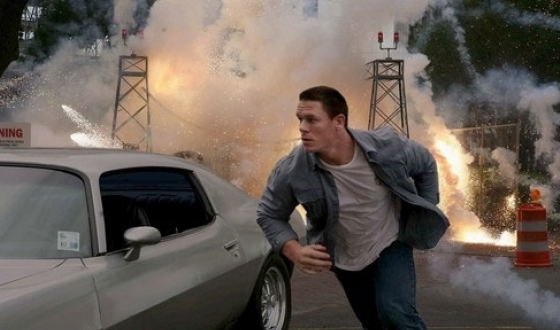 With John Cena's 12 Rounds hitting theaters this weekend we at Flashback Five thought we'd look at some of the pro wrestlers who've leapt over the ropes and onto the silver screen. Like rappers-turned-actors, pro wrestlers have charisma and know how to play to the crowd; a few of them have even given us performances as impressive as their musculature.
1. Dwayne "The Rock" Johnson
Perhaps the biggest star to spring
from the world of wrestling, Johnson is also the best. Careful
in his choices, he's cultivating a kid-friendly side to his career ( The Game Plan , Race to Witch Mountain), making strong action films ( The Rundown ), working with interesting directors ( Southland Tales ), and taking supporting parts in bigger films when it serves his long-term interests ( Be Cool , Get Smart). Johnson's moves in Hollywood have been as carefully choreographed as his action in the ring.
2. Tyler Mane
Mane didn't just go from plying his skills in the ring to acting on-screen; he's stepped into the slow-walking boots of a horror legend. After successful work in X-Men and Troy , the 6′ 8″ Mane was cast as Michael Myers in Rob Zombie's re-vamp of Halloween, and will be taking on the role again in the upcoming sequel.
3. Andre the Giant
France's largest cultural export, Andre the Giant didn't have much of an acting resume if you count his number of roles. If you measure his movies by what they mean to people, though, he's a titan. As the kindly, loyal, and enormous giant Fezzik in Rob Reiner's The Princess Bride , Andre showed the heart inside his 7-foot frame and demonstrated amazing chemistry with Mandy Patinkin and Wallace Shawn as the movie's trio of not-that-bad-guys.
4. Tor Johnson
One of Ed Wood's contract players, Johnson's bald head, massive girth and slack-jawed
stare are instantly recognizable to anyone who ever squirmed through Plan 9 From Outer Space . It wasn't all B-movies for Johnson — he played a strong man in Rogers and Hammerstein's Carousel — but his work with Wood is what earned him infamy.
5. Rowdy Roddy Piper
Between the so-bad-it's-bad Hell Comes to Frogtown and his work in John Carpenter's yuppies-from-outer-space cult classic They Live ,
the Canadian-born Piper may not have an especially distinguished list
of credits when you look past those two classic parts — but his epic
knock-down, drag-out fistfight with Keith David in They Live has earned him a special place in the hearts of movie fans everywhere who love a good fight scene.
Honorable Mentions:
1. John Cena made an impression with his ring-to-reel transitions The Marine and 12 Rounds; time (and box office) will tell if this is just the start.
2. Hulk Hogan went from Rocky III to Muppets From Space , and also made the jump to reality TV in successful, if scandalous, fashion.
3. Dylan Keith Summers — known to fans as Necro Butcher — gave blood sweat and tears (literally) to work opposite Mickey Rourke in what may be The Wrestler's most powerful scene, as Rourke's Randy "The Ram" Robinson endures a brutal bout that nearly kills him.
4. Stone Cold Steve Austin jacked up the action in The Condemned — and he's been offered a role in the upcoming all-star action-fest The Expendables with Sylvester Stallone.
5. Jesse Ventura may be in the history books as a populist Minnesota Governor, but movie lovers remember him best for his trash-talking mercenary in Predator who "ain't got time to bleed."
Read More