What to See – The Last House on the Left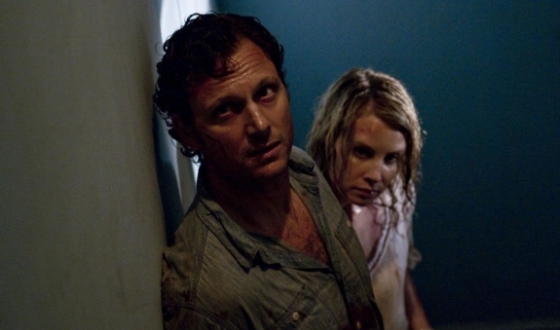 <img src="http://dev.blogs.amctv.com/wp-content/uploads/2009/03/WTSLastHouse.jpg" alt="" title="What to See – The Last House on the Left" width="560″/>


Brutal, bloody, and bleak, The Last House on the Left is a rarity in an age of tepid remakes. Not only is Last House better than the grim 1972 exploitation cheapie it updates; it's a movie that shows the exact nature and exact consequences of violence, as ordinary people realize they're capable of horrible things and horrible people realize that, at the end of the day, they're simply ordinary. The Last House is about the fragility of civilization, and its honesty and bluntness render it more terrifying than any supernatural creature and diabolical demon.
The plot follows that of Wes Craven's 1972 debut (itself inspired by — believe it or not — Ingmar Bergman's Virgin Spring ). While on a visit to their summer home, John Collingwood (Tony Goldwyn) and his wife, Emma (Monica Potter), are left to their own devices one day when their daughter, Mari (Sara Paxton), goes into town to meet her friend Paige (Martha MacIsaac). The girls are coaxed by a man (Spencer Treat Clark) who offers to sell them some weed. Brought to a hotel room, they're kidnapped by thugs and taken into the woods. There is a rape and a bloody murder. The girls are left for dead. And as the sky pours down rain, the assailants head for a nearby house — the Collingwoods' — to take refuge.
Goldwyn realizes who his guests are, and what they've done, and decides to act. "We have to be ready to do anything," he says, and you can see the decision slowly sink in. Garret Dillahunt, as one of the captors, makes for a chilling bad guy: he's charming when he needs to be, brutal when he feels like it. Adam Alleca and Carl Ellsworth's screenplay is meticulously constructed.
There are hushed moments in The Last House on the Left — shots of people at rest, or of a house in the country, or of light on branches. The film serves as a reminder, paradoxically, of how beautiful the world is. There are no demons or ghosts or goblins in The Last House on the Left: just people. People like us. That — not the blood nor the bludgeoning nor the brutality — is what makes it truly horrifying.
For an alternate view of The Last House on the Left, check out Maitland McDonagh in Horror Hacker.
Read More