What to See – Sunshine Cleaning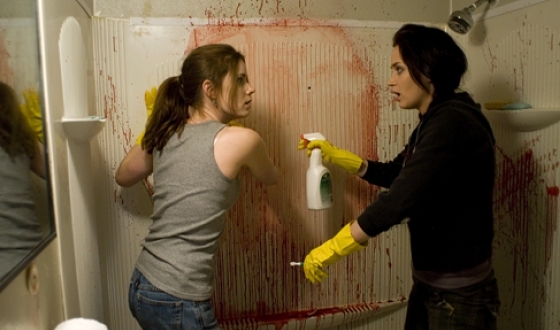 Sunshine Cleaning" width="560″/>

All the advertisements for Sunshine Cleaning, which opens wider this weekend nationwide, stress the movie's connection to the producers of Little Miss Sunshine , as if to make parallels between that indie movie's success and the aspirations of Sunshine Cleaning — right down to the title and the presence of Alan Arkin. But I think that comparing Sunshine Cleaning to Little Miss Sunshine doesn't quite work, if only because Sunshine Cleaning is the better movie — a strong, sincere drama with plenty of gallows humor and two great performances from Amy Adams and Emily Blunt.
As Rose Lorkowski, Adams is raising a son and working as a maid in the New Mexico town where she grew up. The biggest comfort (and the biggest reason there's a need for comfort) in her life is her affair with her now-married high school boyfriend (Steve Zahn). When Rose has to come up with private school tuition for her son, she needs more work — and her cop boyfriend mentions he knows of a firm that makes a lot of money cleaning up after death scenes and murders.
It's not nice work, but it's paying work — and Rose enlists her screw-up sister Norah (Blunt) in the new family firm, with dad
(Arkin) looking on, offering passive-aggressive commentary and silent
judgment. Rose and Norah both have their own reasons to want to do
well, and they both have their own reasons for the mistakes they make. So when it comes to their new line of work, the sisters are willing, if not exactly able, even with a cleaning
supplies salesman (Clifton Collins Jr.) helping them get up to speed on
easily-overlooked things like the fact that, no, you can't just dump a
blood-soaked mattress in a dumpster.
Sunshine Cleaning underwent about 14 minutes of cuts since its debut at Sundance in 2008; the version now in theaters is a lean, but fulfilling, drama. Screenwriter Megan Holley smartly makes the characters human — proud, stubborn, frustrating — and watching Adams and Blunt work through their lives as they work at cleaning up other people's deaths plays as fully-invested drama and bleak black comedy. Alan Arkin's role is small, but pivotal, and he brings his old-pro skill to every scene he steals, sometimes with as little as a tilt of the head.
Sunshine Cleaning is a comedy, yes, but it's also got a serious point to make, about how cleaning up after ourselves is a tough job, and you can't just do it half-way. Adams and Blunt feel like real sisters — their interactions have the carefully-intertwined blend of caring and criticism we can only direct at people we truly love. Sunshine Cleaning's title implies there's light at the end of the tunnel. It's also a movie that gets how much darkness there can be on the way toward the dawn.

Read More