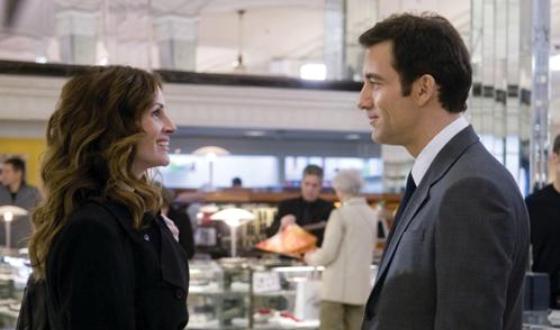 Duplicity" width="560″/>

A stylish, sexy, con-artist caper that finds romance in risk and vice-versa, Duplicity (writer-director Tony Gilroy's follow-up to his Oscar-nominated Michael Clayton ), hearkens back to past cool, complicated romances like The Thomas Crown Affair . It's a movie so dashing and fun, you may not notice how smart it is until you replay it in your head a few times.
Clive Owen and Julia Roberts star as two ex-spies who have gone corporate — he's working for a conglomerate headed by Paul Giamatti; she's on the corporate intelligence team protecting the secrets of Tom Wilkinson's rival empire. Except, of course, she's actually secretly working for the same team as Owen. And they're working for themselves. But they may not, in fact, be working with each other…
Crisscrossing continents and cutting across the years, Duplicity has the same cool, kicky pizzazz as the Ocean's
series from Steven Soderbergh, with the added pleasure of a real
romance under the double-and-triple crosses. Both Owen and Roberts are
smart and clever here, but what's truly impressive is how Gilroy
depicts two characters who are hard and quick, but who also long to be
slow and soft. Their relationship involves both of them letting down
their guard, which, when it happens, may not be for real. Owen and
Roberts are both great, and their chemistry is a fizzing, fuming
delight to watch.
Gilroy also laces his movie with great character actors: Giamatti's demented master of the universe is played with lip-smacking relish, and Wilkinson's cool, calm CEO is nicely underplayed. Denis O'Hare, as a fellow snoop-for-hire, puts a nice spin on every scene he's in. Add in Kathleen Chalifant as Barbara Bofferd, a corporate travel executive seduced and abandoned as part of the plan, and you realize that the ensemble's smooth charm is a big part of what makes Duplicity so good.
Much will be made of Duplicity's ultimate twist — Universal Studios is pleading with critics to keep mum — but if some coarse co-worker or loud person on the subway spills the beans, trust me, there's still plenty of great comedy and con-artistry in Duplicity to enjoy; this is definitely that rare movie where the journey is as pleasant as the destination. It seems that in both romance and espionage, trust is hard to come by — Duplicity links love and larceny perfectly.
To read an interview with director Tony Gilroy, click here.
Also Worth Catching on the Big Screen:
The trailers for I Love You, Man make the plot abundantly clear; what they don't convey is how ultimately charming the movie is. There are plenty of potty-mouthed jokes, yes, but what surprises is how nicely the movie builds to a hilarious, sincere story about how a bro-mance becomes broken. Paul Rudd and Jason Segel are a perfectly matched comedy duo.
Read More