Web Stalker – Oldboy Director Has Thirst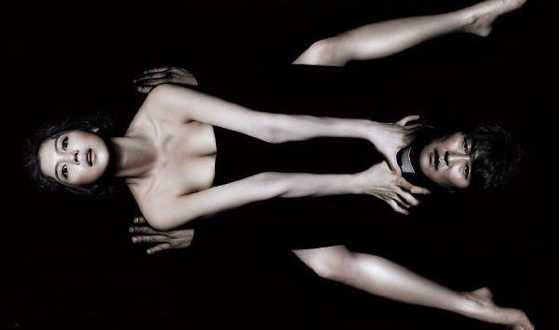 Is it safe to say at this point that Park Chan-Wook is the biggest filmmaker in all of Asia? Well the box office numbers in his native South Korea argue that point. Fellow genre directors Kim Ji-Woon and Bong Joon-Ho may currently top the all time Korean box office with Park placing a few spots lower down but when it comes to international awareness there's no doubt about it. Park is king. And in a movie landscape teeming with vampires, this writer-director's Thirst has hardcore horror fans tingling with anticipation. Why?
One word: Oldboy .
Park's JSA was a huge hit in his native Korea, but the grimly stylish crime thriller Sympathy for Mr. Vengeance alerted international audiences to the fact that when it came to the dark recesses of the soul, few went further or deeper. Oldboy came next, and instantly catapulted Park into the cinema's top tier. Released in 2004, it remains Park's masterwork, an impeccably designed trip through depravity and violence built around a story of incest, imprisonment and an undying quest for revenge. Where else would you see claw hammers used for impromptu dental work or star Choi Min-Sik swallowing a still-living octopus whole (a shot he had to repeat four times before the director was satisfied)? My God … Oldboy is simply stunning, a technical whirlwind orchestrated by an obvious master. Buzz was already building in foreign-film circles when Park arrived at the Cannes Film Festival, but the enthusiastic support of jury-head Quentin Tarantino and the fact that Oldboy won the festival's deceptively titled Grand Prix (it's actually second prize; Michael Moore's Fahrenheit 9/11 took the gold) pushed Park over the top. Oldboy became the focal point of an explosion of Asian genre film over the next few years.
The pressure to continue drawing from his dark and violent well was huge, but Park resisted. After completing his "Vengeance Trilogy" with the previously announced Lady Vengeance , he went in an entirely different direction with the scifi-tinged romantic comedy I'm A Cyborg But That's Okay , featuring Korean pop-megastar Rain (Speed Racer) in his first starring role. But the master couldn't just leave his fans hanging. He needed a break, sure, but the darkness would return: After Cyborg he had plans for a vampire picture, to be known in English as either Bat or Evil Live, which he described as "a very, very sad and tragic melodrama about a vampire who has fallen madly in love with a married woman." That was all Park was willing to spill yet it was enough to get the cultists paying attention.
Information trickled out, notably the news that Park was reuniting Sympathy For Mr. Vengeance stars Song Kang-Ho ( The Host ) and Shin Ha-Kyun, and that Song's vampire character would also be a missionary priest struggling with lust for a parishioner's wife.
Overall, things were quiet until this bombshell: A number of prominent actresses had turned down the female lead because the script included a large number of sexually explicit scenes.Since nothing sells like sex, more than a few eyebrows shot skyward — there was even speculation that production would be delayed. The reaction of Asian movie buffs was largely focused on exactly how explicit the scenes would have to be for so many actresses to pass.
"Mmm … which Korean actresses have turned down the role? Explicit sex scenes in Korean movies are not really something unusual and there are some Korean actresses who had done such scenes." (PrincelyLuna, K-Popped)
That observation prompted the amusing (if unkind) speculation that the objection must have been to sex scenes with Song, rather than sex scenes per se: "I wouldnt want to play the lead either, that guy is all sorts of ugly." (Anonymous, K-Popped).
Actress Kim Ok-Bin stepped in at the last minute and things calmed down again. Universal Pictures sank a bunch of money into the project. An incredibly detailed synopsis was posted on the site of a major funding market. A behind-the-scenes reel and some stills trickled out. But less than a month before Thirst's scheduled Korean release date it seemed as though the world had forgotten about Park.
Er, no.
Last week the first trailer arrived on YouTube, and the reaction was instantaneous. Within twelve hours it was played more than 50,000 times, with posts about it appearing on websites worldwide. The Brits like it. So do the Canadians. Ditto the scifi kids, the horror kids, the serious folks and the die-hard fanboys.
"This is a good trailer, but I think Chan-Wook's name will do more to draw a crowd. Personally I've been awaiting this since it showed up on his imdb page, and I doubt I'm the only one." (Dshelton, Slashfilm)
"Perhaps the greatest director in the world today and I do not say this lightly. The most anticipated film, for me, in quite some time." (milkman, Bloody Disgusting)
"Wow! That looks amazing. I loved Song Kang-ho in "The Host". This looks like a fresh take on an old concept." (behinditallfilms, First Showing)
"Well, this looks better than many of the crappy American films that they try to pawn off as vampire movies. Imagine a vampire movie where they actually show a vampire biting, what a concept. Here's hoping it sucks in a good way." (Blix, SciFi Wire)
Everyone's thirsty for Thirst. A note of warning to Twilight tweens, though: This vampire romance is so not for you.
Read More