Web Stalker – Blood: The Last Vampire Slashes Its Way Online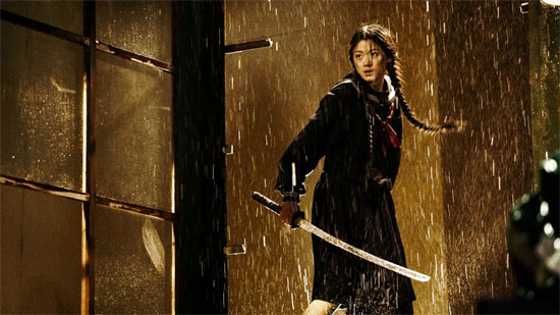 <img src="http://dev.blogs.amctv.com/wp-content/uploads/2009/03/bloodthelastvampire01.jpg" alt="" title="Web Stalker – Blood: The Last Vampire Slashes Its Way Online" width="560″/>


There's something strange happening in the world of the much-anticipated Okinawan vampire hunting saga Blood: The Last Vampire. Despite the fact that it's based on a massively popular anime production, despite having landed a huge international star in the lead, despite a massively dedicated fanbase clamoring to see the movie, Universal has been suspiciously silent when it comes to discussing an American release. It's a situation that — when coupled with the recent upheaval at Universal that saw many key execs involved with the film let go — suggests that Blood: The Last Vampire is about to become a lost film on these shores. And that is a situation that Blood's legions of fans simply will not tolerate!
A little history: The Blood saga began back in 2000 with the arrival of an original, one-off short film based on a concept created by The Critical Eye when the original anime had its North American premiere at the Fantasia Festival in Montreal: "Blood grabs the audience and doesn't let go … It's a rare thing that a character, animated or otherwise, can be so cryptic and yet so enthralling."
The writer was on to something. Beyond the name recognition that Oshii brings and the juicy premise of a monster-hunting schoolgirl involved in copious blood spilling, what makes Blood really work is how effectively it hints at a much larger world and mythology. By teasing at that extensive back story rather than delivering it all in one shot the fans were left hungry. So hungry, in fact, that the franchise has now spawned multiple manga releases, extensive role play video games, and an entire anime television series.
Blood was clearly primed for an eventual big budget, live action release, so it came as no surprise when the live action version was announced in 2006, with hugely popular Korean talent Jeon Ji-Hyun — then known purely as a romantic comedy star — taking the lead. Many were concerned about whether Jeon — now calling herself Gianna Jun — could handle the action. Why cast a comic actress as a hyper-violent killer? The answer to that question arrived in October of 2007 when the first still of Jeon as Saya arrived online. Sweet lord almighty, she certainly looked the part. "The anime kicked ass! And even from this one still, this looks like it's gonna be sweet as hell." (Jared Sin, Bloody Disgusting), "Hah that's a bit more like it, shades of Del Toro's 'Auburn Night' from Blade 2 perhaps? Nice." (Btofu, Twitch)
Well, it's been nearly a year and a half since that first still was released. Universal has maintained total silence on its American plans even as its UK distributors announced a summer release date and Hong Kong production company Edko proudly showed off the first footage of the film in November of 2008. I had this to say about said footage on Twitch: "The ultimate success of this one is going to depend largely on how convincing star Gianna Jun ends up being in English but on a purely visual level? Damn. This thing has definitely got the goods."
And now, the first teaser for the film has finally arrived in public, followed quickly by the full length UK trailer, and both have been tearing through the net ever since. The responses have been hugely positive. Here's a sampling:
"There's something about Asian schoolgirls wielding samurai swords and a various assortment of weapons in near-to-impossible situations, that always perks up my attention slightly… :D" (JordanFrav, Slashfilm)
"Universal picked up the rights, and I hope to god they are reading this, because I want to see this in the theatres. It should be shown in it's original form as well. Please. Look at Passion of the Christ! There was no English in that movie…" (sykoeent, Anime News Network)
So there you have it, Universal … looks like you've got yourselves a movie that people want to see. How about letting them?
Read More