The Rarerest Hyphenated Breed in Hollywood: The 'Writer-Director-Actor'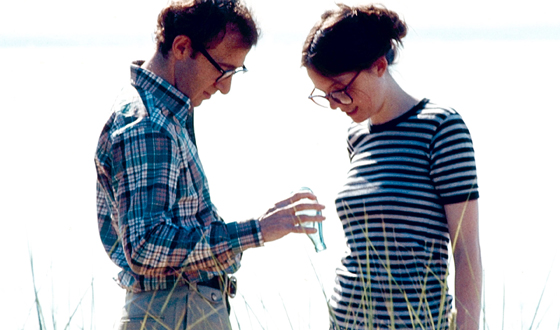 In Hollywood, it's not unusual to find hyphenates wearing multiple hats: An actor who directs; a writer who acts; or a director who writes. Those who multitask can be massively rewarded, critically and financially, for taking on more than one role. But there are a rare few who can fill all three — and not just fill them, but hit a home run in all three roles, any time. These are the Triple Threats:
Woody Allen
Do we even need to list all the movie Allen has pulled triple duty on?
Do we have the space? The director-writer-actor has famously put out a
movie a year since 1977's Oscar winning Annie Hall , with room for new plays, articles, and books in between. From his first film (1966's What's Up Tiger Lily? ) to his most recent (2008's Vicky Cristina Barcelona),
Allen has pulled at least double duty in all of his films. Though he's
started to relegate starring roles to other actors (starting with
1994's Bullets Over Broadway ), the trademark Allen rhythm and humor always shines through.
Kenneth Branagh
Though he may owe a little bit to a Single Threat by the name of
William Shakespeare, Branagh is possibly the most successful
classically trained Triple Threat since Laurence Olivier. Rocketing
to fame by writing, directing and starring in the pitch perfect
adaptation of Henry V (1989), he continued with the box office hit Much
Ado About Nothing (1993), and the slightly less successful Hamlet
(1996) and Love's Labours Lost (2000). With upcoming gigs directing
Marvel Comics' Thor (2010), and starring in The Boat That Rocked
(2009), Branagh seems to have put his favorite collaborator aside for the
moment… but we know he'll return to Stratford-upon-Avon before too
long.
George Clooney
No one ever thought that Clooney, with his movie-star good
looks and playboy rep, would be able to pull off directing
a Charlie Kaufman screenplay. Yet that's exactly what Clooney did, with
the well-regarded Confessions of a Dangerous Mind (2002).
Having pulled off the seemingly impossible, Clooney pushed himself even
further, to write and direct the black and white period piece Good
Night, and Good Luck (2005) and the football comedy, Leatherheads
(2008). Of late he's been wearing his political activist hat, but here's hoping he returns to big screen soon.
Christopher Guest
A comedy veteran, having appeared in classics This is Spinal Tap (1984) and The Princess Bride (1987), it wasn't until late in his career that Guest found his triple-threat calling. Embracing the mockumentary aesthetic of Spinal Tap,
Guest wrote (outlined, technically), directed and starred in several
heavily improvised films, including local theater parody Waiting for Guffman (1996); dog-show send-up, Best in Show (2000); and 2003's folk tribute, A Mighty Wind .
Though Guest has sworn off making more mockumentaries, we expect
that whatever Guest does next will flex at least two of his triple
threat muscles.
Jon Favreau
Favreau was a struggling actor in Los Angeles when he wrote the
enduring and influential indie hit Swingers
(1996), and starred in it
with his friend Vince Vaughn. Not only did it start a swing revival,
but the poster design, look and rhythm of the movie have influenced
independent movies for the past decade. Over
time, Favreau has relegated himself to supporting roles in movies like
Four Christmases (2008) and The Break-Up (2006), while watching his
star rise as a director with modern Christmas classic Elf (2003), and
the mega-hit Iron Man (2008). Meanwhile, as a writer-actor, he
continues to team up with buddy Vince Vaughn, in Made (2001), and the
upcoming Couples Retreat (2009).
Mel Gibson
Before his public meltdown, Gibson was well on his way to becoming
one of the most respected Triple Threats of our time. The Man Without a
Face (1993) showed (no pun intended) a different side of the comic
actor, and that he could work as well behind the camera as in front of
it. This set the stage for 1995's Braveheart , which dominated the
Academy Awards, and rocketed Gibson to the top of the Triple Threat
charts. Then came the massive, controversial hit The Passion of The Christ
(2004), which firmly divided the entire movie-going public, and after that, his meltdown, which over-shadowed
Apocalypto (2006). Will Gibson ever get back to the Triple Threat
heights he reached with Braveheart? If that movie taught us one thing,
it's that Hollywood loves an underdog, so we'll just have to wait and
see.
Sean Penn
Penn has spent his entire career moving himself as far away from the stoner Spicoli ( Fast Times at Ridgemont High ,
1982) as he can, by immersing himself in some of the most serious
movies of our time. Clearly it's working for him on screen — he has
five nominations and two wins. Behind the screen, whether he's writing
and directing movies like the nature exploration flick Into the Wild (2007), dealing with loss in The Crossing Guard (1995) or the pain of being alive in The Indian Runner (1991), Penn is as grim (and talented) as they get.
Kevin Smith
He may be Silent Bob on screen, but Smith is one of the
most verbal triple threats around. Best known as the
writer-director-actor of low budget indie hits Clerks (1994), Mallrats (1995) and Chasing Amy
(1997), he's more recently moved away from the
interconnected universe of his early movies, and stayed behind the camera (and word
processor) for Jersey Girl (2004), and Zack and Miri Make a Porno (2008). He's also appeared in other directors' movies, like Catch and Release (2007) and Live Free or Die Hard (2007). Not content to be labeled as "the talky director," Smith continues to broaden his horizons.
Sylvester Stallone
You wouldn't know it from his action rep, or mumble mouth delivery, but
Stallone is one of the most successful, and prolific Triple Threats in
Hollywood history. From directing, writing, and starring in Rocky's II , III , IV and Balboa (1979, 1982, 1985, 2006), taking triple duty in 2008's Rambo, 1993's Cliffhanger , and the upcoming all-star The Expendables,
Stallone has been single-handedly crafting hits for over 30 years,
with no signs of stopping. Let's just hope he never again becomes a
Quadruple Threat, and sings like he did in Rhinestone (1984).
Ben Stiller
The son of two comedy legends, who are successful double threats in
their own right (Jerry Stiller and Anne Meara), Stiller had big shoes
to fill. To continue a tortured metaphor, he grew out of those shoes
long ago. Not only is he one of the most consistently successful comic
actors at the box office for hits like Meet the Parents (2000) (a
franchise which shows no sign of stopping) and Night at the Museum
(2006), but his Triple Threatness shows through in enduring parodies
Zoolander (2001) and Tropic Thunder (2008), which managed to single-handedly rehabilitate the public's perception of Tom Cruise.
Read More