The Mummy, Dracula and Psycho Have Copycat Directors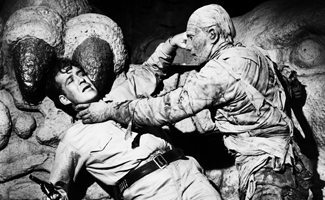 You've heard of copycat killers. How about copycat horror movies? It's no news that the genre is filled with remakes and rip-offs but how much do you know about those flicks that don't just steal but duplicate?
Tod Browning's Dracula — which many horror aficionados are on quoting terms with — has a literal double: A nearly scene-for-scene replication in Spanish. How'd that happen? Well, in the early days of sound, studios thought it financially prudent to produce replicas of certain movies in Spanish, using identical wardrobes, sets, and even scripts. In this case, a Spanish Dracula was shot at night; the English-language version during the day. Besides having a different cast of Spanish-speaking actors, there's one other major difference: The sexual side of vampires is played up.
A sense of déjà vu most likely overtook moviegoers too when The Mummy's Hand hit the big screen in 1940. Its tale of a vengeful mummy come to life was eerily reminiscent to an earlier film — 1932's The Mummy . In the original, Imhotep (played by the inimitable Boris Karloff) yearns inarticulately for a corpse princess; in the 1940 version, the bandaged one (named Kharis this time) hopes for a reunion with a member of Egyptian royalty. The similarity hardly ends there: Footage from the 1932 movie was recycled into The Mummy's Hand in a flashback scene. Furthermore, look closely and you'll spot Karloff (uncredited) in some of those long shots.
And finally, there's Gus Van Sant's scene-for-scene remake of Alfred Hitchcock's Psycho . Sure there were some modern updates (like the amount Marion steals), and of course, Van Sant's movie is in color and features a different cast, but his blocking, angles and editing, were taken straight from the Master. New use was also found for Bernard Hermann's score, with help from composer Danny Elfman. But some people call that sampling.
Click here for a full schedule of The Mummy's Hand on AMC.
Read More