The Most Memorable Mafia Wives in Movie History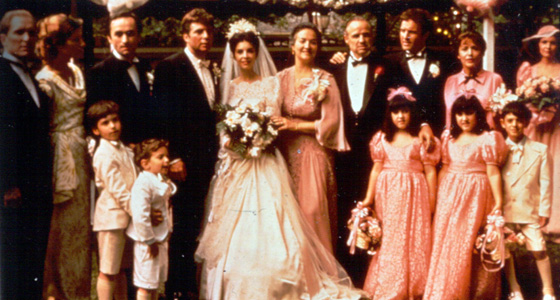 They say that behind every great man there is a great woman, and the members of La Cosa Nostra are no exception. Sure, movie mafiosi get to deliver the killer lines — "I'm funny how? I mean, funny like I'm a clown, I amuse you?" — but it's the women who end up taking care of the kids when their men go to jail or end up on the wrong side of a bullet. They don't always get the same amount of screen time, but these women are as complex as the men they keep company with: Some are complicit in their husbands' lives, while others are desperate to break away.
Ginger McKenna, Casino (Sharon Stone)
A drunk, drug-addicted gold-digger, Ginger is forever sizing up the odds before she bets against the house — or simply steals the chips. Case in point: She marries Ace Rothstein (Robert De Niro), who runs casinos for the mob, but spends her wedding day on the phone telling her pimp she still loves him. When the troubled trophy wife can't find a sitter, she simply ties their daughter to the bed. Once Ginger takes up with mobster Nicky Santoro (Joe Pesci), the sad-eyed scammer finally brings down the whole house of cards — and ends up dead of an overdose.
Kay Adams, The Godfather (Diane Keaton)
As
Kay Adams, Diane Keaton ditches the daffy and keeps the classy, steely
aspects of her WASP persona. Over the course of the three movies in the
saga, she falls for Michael Corleone (Al Pacino), bears his children, files for
divorce and eventually reconciles — sort of. Throughout, Kay acts as
Michael's aspirational conscience, symbolizing the path to legitimacy
he hopes to achieve for himself and his family. But long-suffering Kay
is most heartbreaking in the first movie, once she realizes there are
certain things Michael will always keep from her.
Connie Corleone, The Godfather II (Talia Shire)
Talia
Shire was perhaps best known in the 1970s as the Adrian to Sylvester
"Rocky" Stallone's "Yo." But Francis Ford Coppola's real-life little
sis is just as unforgettable as Michael Corleone's sister. Michael
widows Connie by having weak-willed hubby Carlo Rizzi offed in the
first movie. But the second flick is when Connie comes into her own as
a Corleone, pleading with Michael to forgive their brother Fredo, and
scheming like a true Sicilian, she sneaks Michael's estranged wife Kay
in to visit their children.

Karen Hill, Goodfellas (Lorraine Bracco)
When
Karen first goes on a date with Henry Hill (Ray Liotta), they get the royal
treatment at the Copacabana, even though they enter through the
kitchen. Astonished, she asks what he does. "Construction." A nice
Jewish girl, Karen is initially attracted to and mystified by the Mafia
lifestyle. Henry's family behaves like no other, supporting the couple
in good times and cutting them loose when he goes to jail. Ultimately,
her nuclear family is what matters most, which explains why she ends up
selling out the mob and entering the witness protection program.
Angela de Marco, Married to the Mob (Michelle Pfeiffer)
Gum-cracking,
spiral-permed
Angela de Marco announces she wants out of her marriage
and the mafia life. Conveniently, her marriage to Cucumber Frank (a
young Alec Baldwin) is cut short by Mob boss Tony the Tiger's bullet
soon after. Angela sells off all her ill-gotten goods and moves, but she
still can't shake the
Family. See, Tony's got a thing for her. Bubbly but determined — she's
not at all slowed down by her big hair or her bling — Angela
undergoes a moral and romantic awakening as she fends off Tony's
amorous advances.
Irene Walker, Prizzi's Honor (Kathleen Turner)
Long
before Mr. Smith met, married, and tried to murder his Mrs., Prizzi
family hit man Charley Partanna (Jack Nicholson) fell for ice-cold
assassin Irene Walker at a mob wedding. No wonder: She's mysterious and glamorous. The couple quickly succumb to
their killer chemistry and wed, but hide their day jobs from
one another. (Hired as the family's "out-of-town-talent," Irene insists
she's a tax consultant.) Until, that is, the couple end up with assignments to
kill each other… which may not be what they had in mind when they vowed
"Till death do us part."
See Kay and Connie in action. Watch The Godfather and The Godfather Part II on AMC. Click here for the complete schedule on AMC.
Read More