The Craziest Roles Require Crazy Actors Like Christopher Walken or Tilda Swinton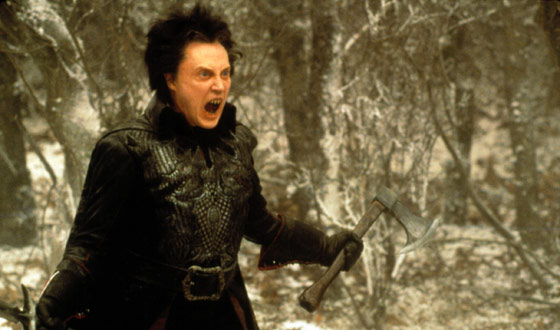 For most actors, it's a stretch to play an oddball but some stars are so weird in life that playing a weirdo on screen comes naturally. The following actors don't just play kooky — they live kooky. And if many are Tim Burton regulars, do you really have to wonder why? Let's celebrate those who disparage the normal. The world (and movies) would be much blander without them.
Helena Bonham Carter
Any woman happily married to Burton has to be a strange bird. And Bonham Carter's not just Burton's wife, she's his go-to girl for freaky female roles like the cannibalistic Mrs. Lovett ( Sweeney Todd ) and the titular cartoon creep of Corpse Bride. She's also played nut-jobs such as Ophelia ( Hamlet ) and Bellatrix Lestrange ( Harry Potter ). Hey, can you imagine another actor giving a method-like performance as an ape ( Planet of the Apes )? Well, maybe…
Johnny Depp
Captain Jack Sparrow ( Pirates of the Caribbean ) is perhaps his signature role and that says something. A man who used "Oprah Noodlemantra" as his name in the credits of Freddy's Dead and owns a Caribbean island called F**k Off is on the A-list when you're casting the Mad Hatter for an Alice in Wonderland remake or an Ichabod Crane for Sleepy Hollow . Like Bonham Carter, Depp is a Burton regular, with work dating all the way back to Edward Scissorhands .
Crispin Glover
Everything Joaquin Phoenix is currently doing, Crispin Glover has already done better. A terrible Letterman interview? The public breakdown? Reclusive antisocial behavior? Check, check, check. The thing about Glover is that he parlays these eccentricities into memorable characters. Think George McFly ( Back to the Future ), the rat-communing psychopath ( Willard ), and a monster named Grendel ( Beowulf ), and you'll see how the bizarre can be brilliant. Of course, he's also slated for Burton's upcoming Alice in Wonderland.
John Malkovich
Who is Malkovich anyway? It's hard to tell how much is him and how much is acting in the landmark Being John Malkovich . Given his performances as Cyrus "The Virus" Grissom opposite Nicholas Cage in Con Air and F.W. Murnau opposite Willem Dafoe in Shadow of the Vampire , it's clear this man can upstage even the biggest hams. Which explains why he plays both Jekyll and Hyde in Mary Reilly . Who could compete with him as an alter ego? Poor Julia Roberts! She didn't stand a chance.
Steve Martin
It's difficult to narrow down which Martin movies to mention here; a whole column could be dedicated to his strange brand of humor. He made audiences love him in The Jerk , then tried to make a woman love him in The Man With Two Brains , and eventually showed how powerful he was by making a role previously associated with Jack Nicholson totally his own: The dentist in Little Shop of Horrors . Now that he's doing The Pink Panther franchise, Martin isn't just staying strange, he's continuing the legacy of strangeness from Peter Sellers.
Tracy Morgan
A former crack dealer who's been arrested twice for drunk driving, Morgan is definitely a loose cannon. (Is there another man on this list claiming to have the words "Stove Top" tattooed on his unmentionables?) His early career mirrors his life in titles at least: Half Baked , 30 Years to Life and Jay and Silent Bob Strike Back . Due in large part to his success on 30 Rock, Morgan has landed roles in five upcoming movies, one of which is called Cloudy With a Chance of Meatballs.
Tilda Swinton
To call Swinton quirky is an understatement. In truth, she's so unconventional (living with one man while maintaining a relationship with another) that she merits the terms iconoclast. Perhaps her early work as a sex-changing British nobleman ( Orlando ) gave her ideas… Nowadays, nothing is unexpected from her. She's gone from a gender-bending archangel ( Constantine ) to White Witch ( The Chronicles of Narnia ) to an upcoming Jim Jarmusch flick, himself somewhat strange.
Lily Tomlin
In her TV specials, Tomlin embodied a whole cast of outsiders. In the movies, she continued the tradition with memorable turns as an uptight secretary (9 to 5), Steve Martin's mirror image ( All of Me) , and a daffy, LSD-distributing birth mother ( Flirting With Disaster ). Recently on the set of I Heart Huckabees , she showed her outrageous antics in front of the camera aren't always scripted. (Check out this f-bomb laden tirade from the set that made her a topic of water cooler conversations nationwide.)
Christopher Walken
It takes a one-of-a-kind to one-up Woody Allen, but Walken accomplished that feat as Duane Hall ( Annie Hall ) in one of his earliest roles on the silver screen. He's stayed an unforgettable presence in the movies thanks to parts like a ping-pong playing archfiend ( Balls of Fury ), the Headless Horseman ( Sleepy Hollow ), and a guy who hides watches in his nether regions ( Pulp Fiction ). Let's face it: Tarantino likes weird actors almost as much as Burton.
Gene Wilder
Anyone under 40 has a special place in their heart for Wilder thanks to Willy Wonka & the Chocolate Factory . Depp may have reprised the role in the 2005 remake, but he simply couldn't compete with Wilder's creepier (and more lovable) version. Wilder's an original even when he's mocking. In Young Frankenstein , Wilder pulled off what Depp could not: Improving on a beloved and well established character.
Honorable Mention: Bill Murray, who almost made the list, has since gone respectable ( Lost in Translation , Broken Flowers ). Still, it's great to remember his zanier days with Caddyshack which airs on AMC tonight at 8PM | 7C. After the movie, take the Cinemania trivia quiz for a chance to win and AMC backpack with a Sports Comedies DVD prize pack.
Read More