Ten Natural Bad Guys (Regardless of Role)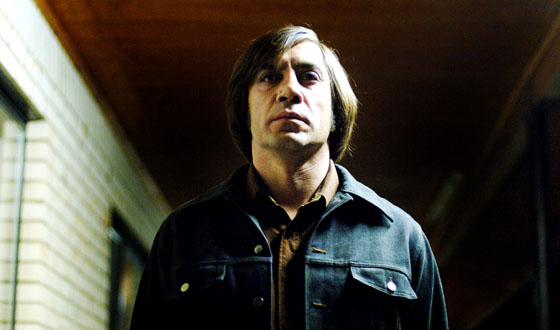 Aaahhh, to be the bad guy! Actors always say it's more fun to play the bad guy than any other type of role and let's admit it — some tackle the part better than others. In fact, some are a little too good and as a result, they are defined as a "bad guy actor" — a feeling that follows them even when they try to branch out. Here are the ten actors who continue to instill a feeling of fear and dread even when they try and play nice.
Javier Bardem
Javier Bardem's portrayal of Anton Chigurh in No Country for Old Men
was so terrifying, he resembled monsters like Michael Myers and Jason Vorhees. With his captive bolt pistol and
equally terrifying hairdo, Bardem created instant dread in each scene
he appeared in; flipping a coin or talking on the phone carried the
same ominous weight as when he strangled a victim. He's an amazing
actor who played the role of Ramon Sampedro in The Sea Inside
with empathy and delicacy, but now we'll always think of Bardem as the
man with the compression weapon. Just watching the trailers for Vicky Cristina Barcelona put us on edge: Would there be a scene where he conducts surgery on himself after making rough love with Scarlett Johansson?
Kathy Bates
Like many of her male brethren on this list, Bates rose to fame with her bad-guy defining role. For her it was Annie Wilkes in Misery ,
an obsessed fan who keeps her favorite author captive — and injured.
Bates was so scary and believable that she garnered her first and only
Academy Award win. She's played caring and sweet-hearted, but something always
makes the viewer feel ambivalent when she does. Primary Colors , About Schmidt ...
yeah we love smart, sardonic Bates, but she should really concentrate
more on sadistic, psychotic, twisted characters, Mr. Man!
Ralph Fiennes
When Ralph
Fiennes' name appears in the opening credits of a movie, be
prepared to have your face melt with cinematic genius. Yet after his
role in Schindler's List
as a psychotic Nazi concentration camp officer, it's a little jarring
for him to be the romantic lead in period pieces and J.Lo romcoms. Watching movies
like The End of the Affair and Maid in Manhattan ,
you find yourself waiting for him to "take out" his love interests
in a way that doesn't include coffee or flowers. We're glad to see him
playing Lord Voldemort in the Harry Potter movies — it's never too early to have kids scared of Fiennes.
Anthony Hopkins
Arguably, Anthony Hopkins created the best bad guy ever to be put on celluloid. Hannibal Lecter in Silence of the Lambs
gave us the heebie-jeebies, but we also cheered him on when he attacked
the bad guys. He's the pitbull we all wish we had in our back pocket
to unleash against our own enemies. So how to explain Howard's End or Hearts of Atlantis ? Where's the straight jacket? Hopkins had a pretty successful career before Silence of the Lambs with The Lion in Winter , Magic and Audrey Rose , but after a role like Hannibal, it's actually creepier when he's not biting someone.
Dennis Hopper
It wasn't until his portrayal in Blue Velvet as a nitrous oxide-inhaling psycho did we see Dennis Hopper's career launch as the go-to bad-guy actor. Whether it's Speed , Waterworld ,
or the Ameriprise commercial, Hopper freaks you out. That's why it's
still weird seeing him in movie playing against type. When
Hopper plays an art dealer in Basquiat , we appreciate the effort, but wouldn't we rather see him slap Andy Warhol's big white head around?
Gary Oldman
The Professional , True Romance , Bram Stoker's Dracula …
these movies feature antagonists of all different motives and
yearnings, but the reason they are all so threatening and memorable is
because of Gary Oldman, an actor even Jeffrey Dahmer would fear meeting in a dark
alley. But to avoid the inevitable typecasting, Oldman took on
protagonist and good guy roles in Immortal Beloved and The Dark Knight.
Sure he was a fine Commissioner Gordon, and Heath Ledger deserved
his Oscar for the Joker… but weren't we all also fantasizing how
sick and twisted Oldman could have played it?
Robert Patrick
Robert Patrick catapulted to fame with Terminator 2: Judgment Day ,
thanks to his smooth, robot delivery, piercing stare and perfect hair.
After that first villainous part, alcoholic, abusive authority figures
became Patrick's forte, with roles in Walk the Line and Bridge to Terabithia . Yet even as a veteran firefighter in Ladder 49 or an assistant coach in We Are Marshall, he still scared us with his intensity (and perfect hair). When the plane goes down in We Are Marshall,
our first reaction is to suspect Patrick's character of sabotaging the
flight. We kept waiting for the scene where he's on a cell phone,
demanding money "or else another high school football team will be
sidelined!" … Come to think of it, that might have made a better
movie.
Alan Rickman
He
plays the morally ambiguous Severus Snape in the Harry Potter movies,
but Alan Rickman is best known portraying big time baddie Hans Gruber in Die Hard .
His refined voice and effortless delivery made even his mumbles sound
Shakespearean. Now Rickman has kept up the bad-guy routine with the
antagonist roles in Robin Hood: Prince of Thieves and Sweeney Todd , but what were the producers of Sense and Sensibility and Love, Actually thinking? Casting Alan Rickman as a good-hearted ad executive in Love, Actually is like casting Tara Reid as someone with talent.
Christopher Walken
Christopher Walken's style and looks are so distinctive and original,
he deserves a medal for being the weirdest, scariest person
alive. Take a paragraph, take out all the punctuation… and there you
have "Christopher Walken dialogue." His "Oh my God, what is he going to
do next?" vibe is in prime form with his roles in Annie Hall , The Prophecy , King of New York among many others. But when he plays anything but this kind of character, like in Catch Me If You Can , Man of the Year or Wedding Crashers , it just comes off like cheese on Chinese food: Two things better left alone.
Hugo Weaving
Agent Smith of the Matrix Trilogy
put Hugo Weaving on the map — that neck crack, his melodic syntax, the
way he said "Mr. Anderson" between clenched teeth. We saw his suit, his
shades and knew how badass this guy really was. Then we went to see Lord of the Rings: The Fellowship of the Ring
and found ourselves jolted out of the movie: What's Agent Smith doing
here with ears even bigger than his forehead? Then we see V for Vendetta and are equally disturbed. What's that deep, menacing voice doing acting all noble in V? What's next, James Earl Jones voicing Elmo on Sesame Street?
Read More