SXSW 2009 – Todd Haynes and Richard Linklater on the Realities of Modern Filmmaking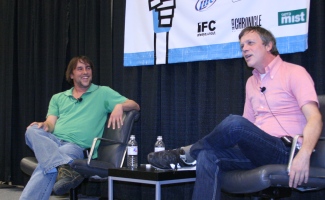 On Tuesday, South by Southwest offered movie lovers a chance to see two of today's brightest filmmaking talents in conversation as Richard Linklater ( Dazed and Confused , Slacker ) and Todd Haynes ( I'm Not There , Far From Heaven ) spoke at the Austin Convention Center.
Speaking with relaxed charm and self-deprecating humor, both men shared their thoughts on modern moviemaking. Haynes, for example, talked about the tricky disconnect between making his highly personal movies with other people's financing, and how he gets through that conflict: "I find myself in a state of semi-denial."
Both directors spoke about their perceived successes and
perceived failures, and how filmmaking can actually be easier for a
young director without the burden of a reputation. Linklater pointed
out that the ups and downs of the business can, occasionally, be held
against a director as he makes more movies: "The good thing is you
have a body of work that people can refer to, and the bad thing is you
have a body of work."
Linklater also discussed his days running the Austin Film Society — during which, in the 1980s, he interviewed Haynes for the Film Society's Newsletter. His organizational and administrative work proved to be good training for his movie career. "I was always the guy who could go talk to a lawyer. That prepared me a lot for filmmaking," he recalled.
And while the two directors have a lot in common — a love of moviemaking, a desire to explore what movies can do — they also have their differences. Linklater contrasted his loose, casual productions with Haynes' bold, ambitious movies. "My threshold for what a film can be is pretty low, Todd, and I think yours is pretty high," he said. But in contrast to the occasional doom-and-gloom tone of many film festival panels, Linklater and Haynes stayed positive — as the conversation came to a close, Linklater noted: "And we made it through without bitching about the industry." Haynes, laughing, replied, "See how nice we are?"
Read More